---
Top-Notch Quality Bulk Custom Patch Embroidery Service
Custom Embroidered Patches
Like many industries in today's society, the embroidery industry is facing a significant challenge: How to produce high-quality products without driving up the cost? One solution in the textile and fashion industry that has been gaining popularity is wholesale custom embroidered patches. These bulk custom patches provide customers with top-notch quality at an affordable price and quickly become the go-to option for embroidered goods.
This blog post will explore why Cre8iveSkill is the future of custom embroidery patches. We'll also discuss how Cre8iveSkill excels at this service and give you an idea of its costs and benefits. After reading this post, you'll understand why so many people have turned to Crea8iveSkill as their custom embroidered patch manufacturers.
Bulk Custom Patches With Cre8iveSkill - Manufactured The Way You Want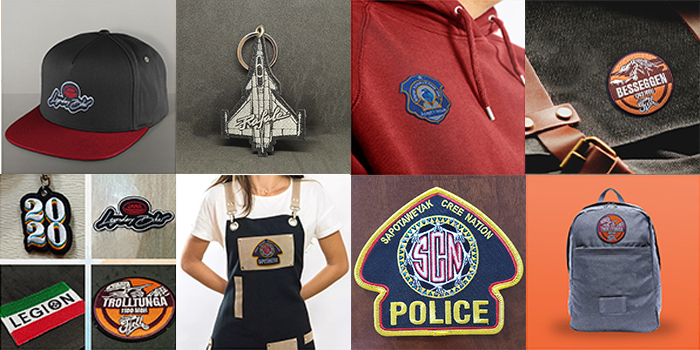 Custom embroidery patches are a great way to show your company's logo or slogan on uniforms, clothes, jackets, and many other products. But many people are not aware of quality embroidery services like Cre8iveSkill in the market. For this reason, they end up buying low-quality products from low-end companies which fail to fulfill their purpose.
There is a wide range of options if you want to buy custom embroidery patches in bulk. The key to it is finding the right supplier and getting your design replicated as quickly, accurately, and affordably as possible.
You want quality at an affordable price without sacrificing either service or cost-effectiveness, right? We can help you with both right here at Cre8iveSkill!
The Future of Embroidery - Speed, Consistency, and Top-Notch Quality
Hand embroidery, though intricate and beautiful, is consistent with being slow and providing inconsistent quality. Today's state-of-the-art, high-speed, computer-controlled digital embroidery machines can create dozens or even hundreds of patches fast.

Getting your company's patches made in bulk is a great way to get the perfect design for any occasion. You want them quick and affordable, with high-quality products from an established industry leader like Cre8iveSkill that will ensure you are satisfied every step of the process - all at an excellent price point too!
This is what we, at Cre8iveSkill, count on for bulk custom patch production, and that's why Cre8iveSkill has become such a popular choice for our customers.
Customize With Cre8iveSkill - Accomplished Expertise At Your Fingertips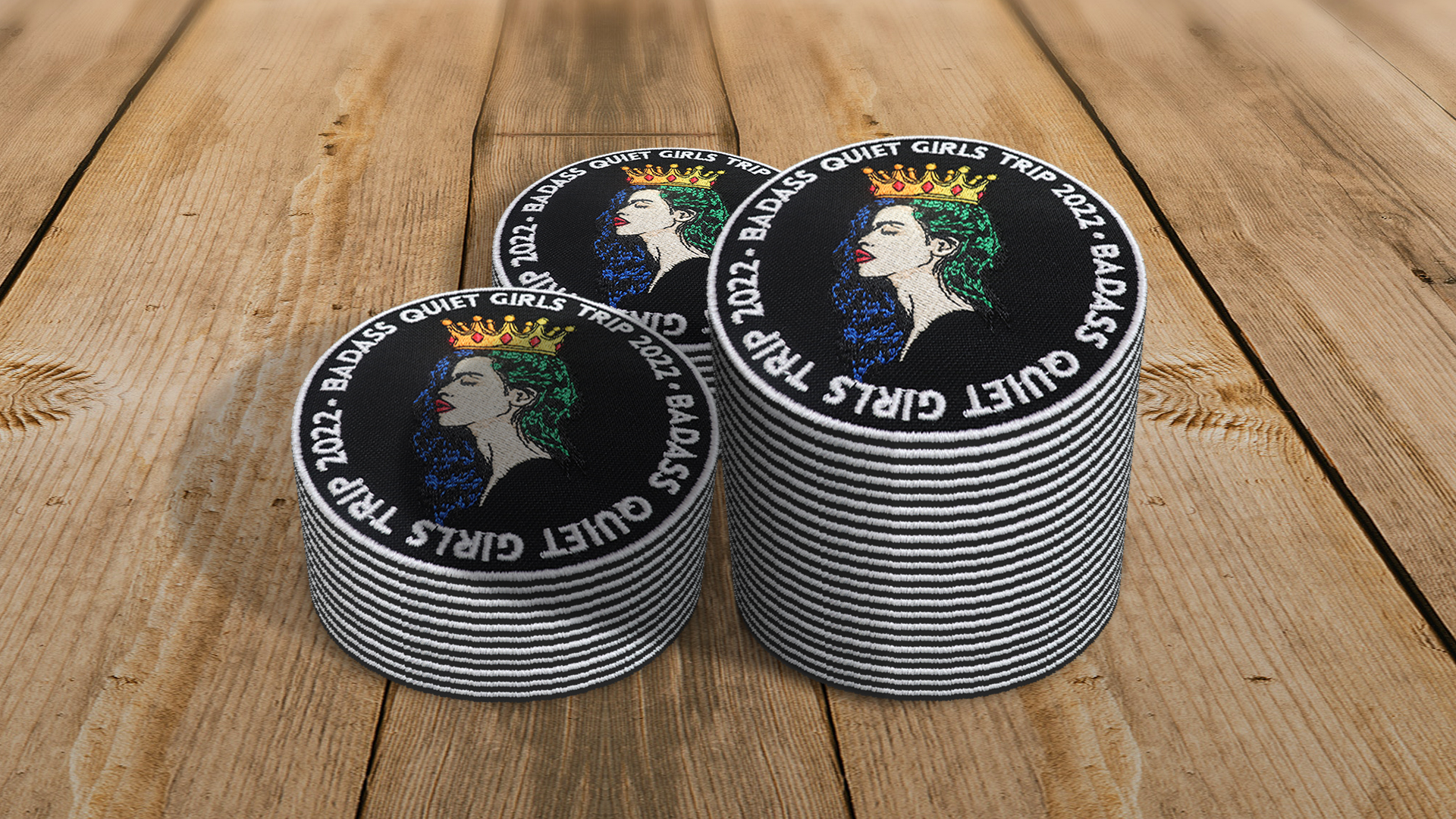 Wholesale custom patches are a great way to express your personality, commemorate an event or occasion in style—and they don't have to be old-fashioned. With modern embroidery machines that can create patches of virtually any size and shape you want them to (think custom shapes), it's never been easier to customize even the most basic garment with something special!
And Cre8iveSkill excels at materializing your imaginations. Quality embroidered patches are perfect for everyone. They can be made in any size or shape, depending on your needs! If you have an idea but no design to go with it, our experienced graphic artists will work with you until we reach the final product that is just right.
Need more reasons to choose Cre8iveSkill? Because we are fantastic at what we do.
Cre8iveSkill Is Affordable – Spend Less And Get More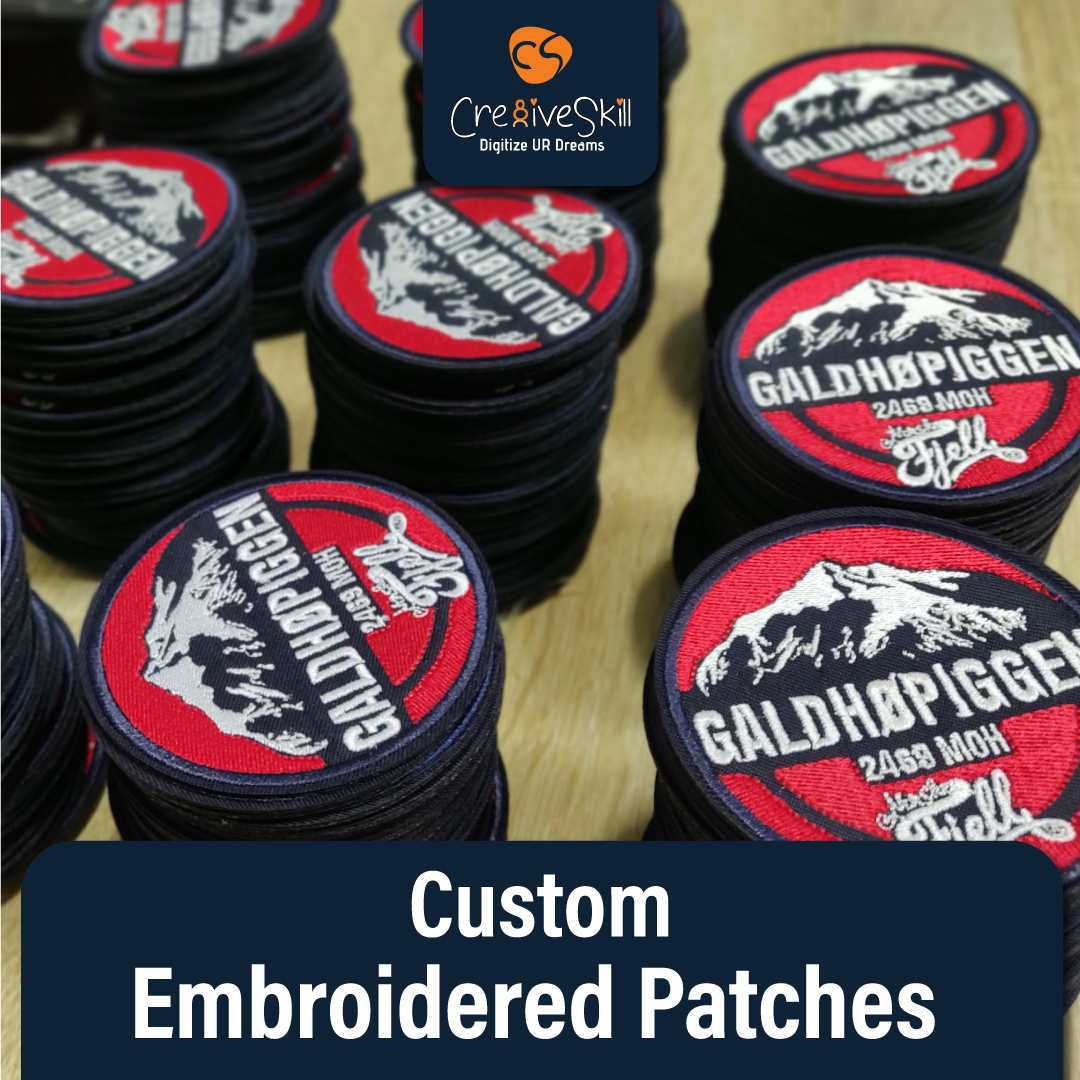 The sky is the limit when it comes to custom embroidery. There are many different ways to customize patches, pins, and other items with your logo or design. You can get a bulk order of patches for an event or a fundraiser at a fraction of the cost by going through us! We offer top-notch quality products that you can rely on.
Look no further if you're looking to create excellent wholesale custom patches in less time and affordable price. Cre8iveSkill brings the quality and creativity of bulk custom patches for clothes to your fingertips, making eye-catching designs accessible with an attractive pricing model.
We meticulously turn your concept into a beautiful embroidered patch that will look great on just about anything!
We offer high-quality bulk custom embroidery patches at affordable prices without sacrificing craftsmanship. Our talented designers and experts know what it takes to make sure each design comes out perfectly vivid, from simple circular onesies up through intricate military insignias.
If before we move on, here's something more for you; if the quantity of your custom embroidery bulk order is more than 500 pieces, the price may even be lesser as per the quantity.
You Are Our Priority – No Compromise On Your Satisfaction
The embroidery industry is a service-based industry, which relies on customer satisfaction to thrive. When customers are satisfied with their products, they are more likely to purchase again.
Customer satisfaction is one of the most critical aspects of the business. It's about giving customers what they want and making sure they are happy with the service. This will help build an even closer relationship between you and us. That's why it's essential to make sure everyone who comes into contact with us has a positive experience.
We, at Cre8iveSkill, are the go-to source for high-quality, inexpensive wholesale custom embroidered patches. To ensure that every patch is well above par, we perform thorough inspections and quality checks to ensure that the delicate patches, such as wholesale custom iron-on patches, are what you need and expect from us.

We have consistently exceeded expectations, and our inspection team plays a vital role in the satisfaction of our clients.
Conclusion
The art of embroidery is a skill that needs to be mastered in order to produce quality work. The better the quality, the more satisfied your customers will be. We know precisely how pertinent that is in our bulk custom patch embroidery service. We give you time, we listen to you, and we understand your concerns.

Couple that with top-notch quality and affordability, and you'll get masterpieces as your custom embroidery patches with Cre8iveSkill.