---
Best Guide To Personalizing Your Bags With Embroidered Patches
Custom Embroidered Patches
Custom patches are no longer just for athletic events. Patches allow you to customize your bag while displaying a piece of charm to your peers. A unique patch with your name is the finest way to customize your bag. With a variety of thread colors and text styles to pick from, you can design a personalized patch that is as bold and stylish as you are. Display your initial and last name, as well as a nickname. Custom embroidered patches are a great way to show off your personality while making your bag distinctive and new. Custom patches and ribbons in the shape of embroidered logos, monograms, and personalized embroidery patterns are increasingly becoming recognized as a fantastic tool for advertising and sponsoring events, fundraisers, and conferences. Whatever type of event you plan, a custom-designed patch may assist in boosting awareness of your company and its products and services or just how you wish to carry yourself and showcase it to the world! Indeed, customized patches are an essential component of a wide range of promotional methods.
Can't think of something to embroider with your backpack patch? Various alternatives are available, including personalized patches made of leather, vinyl, or mesh materials. Can't seem to locate any artwork or design those appeals to you? Today, we'll look at some popular backpack patch ideas and how to dress up any bag with eye-catching patches.
Making Your Patches
Your bag serves as a stage for your individuality. It may, however, be used to display your hobbies and interests. Patches may be made in any form or size you can think of. Create a patch representing your interest in piano, basketball, painting, fishing, sports, or anything else. Your patch will display your hobbies to others, allowing you to locate people who share your interests. Make your bag a reflection of your individuality. If you want to make personalized patches for your company, you should know that you may save money by doing it yourself. You can ensure that each uniform patch you make is unique by making them yourself. Cre8iveSkill offers embroidery digitizing services that will help you to design and build your patches. We provide a variety of materials, including thread, polyester, fleece, vinyl, rubber, nylon, and many more.
THE BEST OPTION FOR PERSONALIZING YOUR BAGS WITH EMBROIDERED PATCHES
Velcro Patches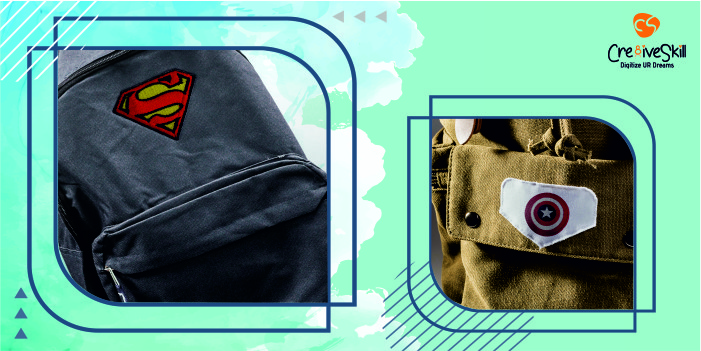 Many clients choose Velcro backing for their backpack patches because it is convenient to install and remove. Some of the benefits of custom embroidered velcro patches include:
• Sewing is not necessary.
• The patch will stay longer if you remove it from your bag before washing it.
• They are easily interchangeable.
Iron-on Patches For Backpacks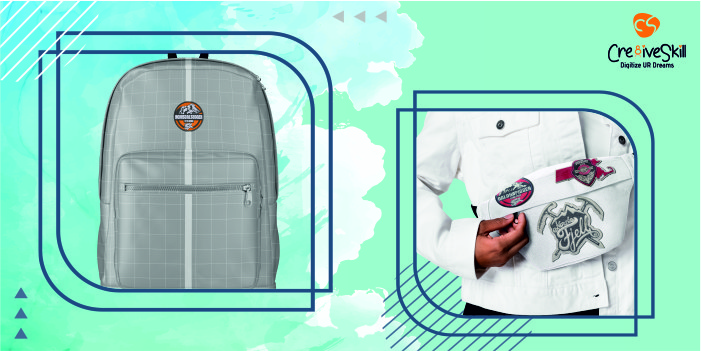 Ironing on a patch looks to be a simple process, but it is not as simple as it appears. One error can ruin your entire rucksack. Sewing the patches, on the other hand, is an alternative, but ironing is the best since it appears more natural.
Precautions that must be taken:

• Before pressing the Iron on patch onto the bag, make sure it is not made of a soft material like silk.
• Set the iron temperature to 275-310 degrees Fahrenheit.
• Patches should be placed consistently in the same location.
• If you wash it frequently after ironing the patch, it may not last as long as it should; therefore, I have a solution: stitch it from the patch's corner.
• Place the patch slightly away from the zipper to avoid a stuck zipper problem.
8 brilliant Embroidery Patches Concepts for your bags and purses…
Name Patches:
Name patches are the most popular embroidered patches for bags among youngsters. At this age, everyone begins embracing their uniqueness and entering new experiences. As a result, they always select name patches for hats, coats, clutches, or purses. Friends and cousins love these name patches as well.
Logo Patches:
The most popular type of patch is the logo patch, which every organization requires. Print logos reflect an institution's or company's identity; thus, if someone receives a contract for logo patches, he will undoubtedly increase his business.
Fancy Patches For Bags:
These patches are embroidered with rayon or polyester thread. Fancy textile patches are frequently pricey, and they certainly deserve to be. Net fabric patches outnumber velvet embroidered patches in popularity. However, velvet embroidered patches provide a regal touch to your clothes.
Flag Patches:
Flag patches are frequently used during cultural or festival weeks. A large number of consumers requested these updates at the time. These patches are typically simple to manufacture since they must be made in the same color and style to make machine embroidered patches easy to embroider. Flag embroidery is trendy for embroidered badges.
Instrument Patches:
These patches are trendy among people of all ages. Your embroidery machine's software contains an abundance of instrumental patches, allowing you to pick one and embroider on patches effortlessly.
Patches Inspired By Nature:
Nature is the most beautiful sight we can see. Its beauty inspires people of all ages. Nobody can dispute nature's radiance and beauty. Making nature embroidered patches for bags is a perfect idea.
Cultural Patches:
Cultural embroidered badges and patches are always popular at cultural or festive events. Every country has a variety of cultures unique to its location, and every native is proud of their heritage. As a result, for special occasions like Halloween, Valentine's Day, Saint Patrick's Day, Easter day, etc., all customers require patches.
Anime Patches:
At certain ages, anime patches are more prevalent among females and guys. Children and teens are obsessed with anime characters. These patches are used on purses, bags, and many other things.
How to Select the Most Reliable Custom Manufacturer?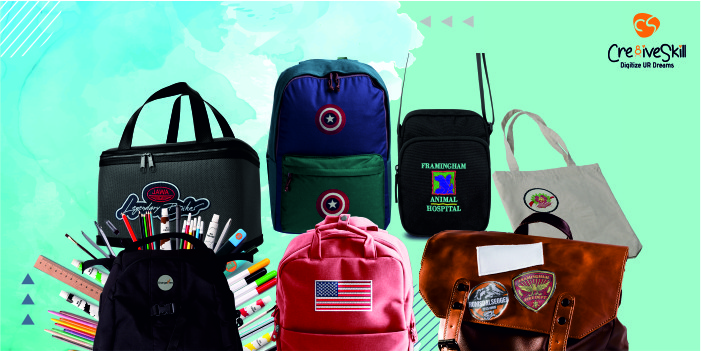 When selecting embroidered patches, it is critical to deal with a highly qualified graphic designer who can deliver the most incredible artwork. The most popular design method for custom embroidered patches for bags and backpacks is to sew your company logo right on the patch. This not only makes an excellent promotional present and giveaway, but it also aids in the development of brand recognition with the help of custom patches. Often, businesses will have their names, logos, or monograms embroidered on the patch.

In the US and Europe, Cre8iveSkill is a top provider of creative services to businesses involved in embroidery and printing. Therefore, we provide production-friendly embroidery digitizing to such businesses to help them achieve faultless quality and greater efficiency. Also, we provide excellent embroidered patches. You get the best-customized patches for your bags, purses, and backpacks with us. We have a team of skilled professionals who provide the best advice on which patch will be the best for your use and practically work for you.