---
Why Wilcom Embroidery Software Is Leading The Digitization Industry
Embroidery Digitizing
The digitization of industries is growing rapidly, and only the strong will survive. The global digital transformation market is estimated to reach $1,009.8 billion from $469.8 billion (2022 to 2025). According to executives, digitization improves operational efficiency by 40%, increasing customer satisfaction and general output. As a significant player in the digitized embroidery industry, Wilcom embroidery services are present in over 100 countries, with more than 250,000 licensed customers. What makes Wilcom embroidery software stand out amongst competitors as the top choice in the digitization industry?
What Is Wilcom Software?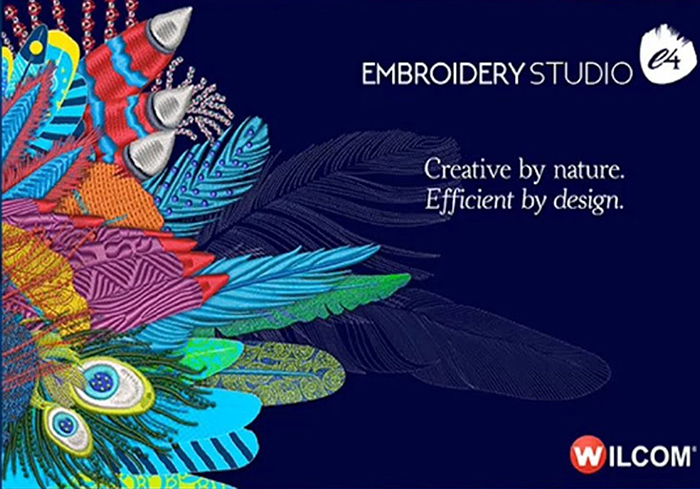 Wilcom software is a name on the lips of every digital embroidery studio, and this is for a reason. They cater to your every need as a digitizing industry and provide you with a platform that allows you to have a professional embroidery finish.
Products of Wilcom software include embroidery studio designing, embroidery studio decorating, embroidery studio editing, embroidery studio lettering, a web API, and a workspace that's both flexible and easy to use and now newly launched embroidery estimator. All of these are aimed at improving user experience and are part of the reasons why Wilcom embroidery studio stands out.
Wilcom is the maker of Hatch, an embroidery software that also provides increased flexibility. With its embroidery organizer feature, you better organize and format your files. You can also personalize your files, build embroidery from scratch, and achieve professional perfection even from the comfort of your home.
Pros Of Wilcom Digitizing Software
● Design elements make it easy to have unique styles and effects for your embroidery design.
● Wilcom's embroidery studio allows shops to upload their designs directly to the networked machine via Wi-Fi, improving the ease of use.
● Designs are readily and easily resized while maintaining quality.
● Wilcom software can also be used on macOS
Cons
● The only con of using Wilcom software worth mentioning is its high cost.
Why Is Wilcom The Best Embroidery Digitizing Software?
Wilcom embroidery studios have been around for over three decades, and they have been consistent with making improvements to their software. With their innovations and premium designs, you get fully packed software that is easy to use.
1) EMB Format: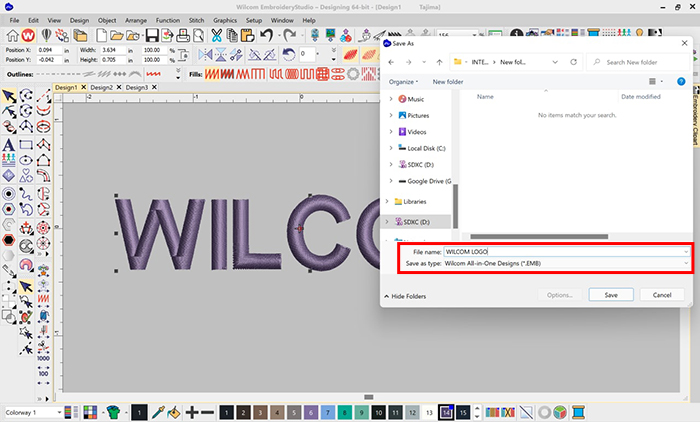 The EMB file format is one of many formats used by embroidery digitizing software. This format, however, makes it easier to edit your designs, so you save time without compromising the expected result. With the EMB, there is less work for the user as you can quickly switch between properties according to design and fabric.
2) Quick Design Resize: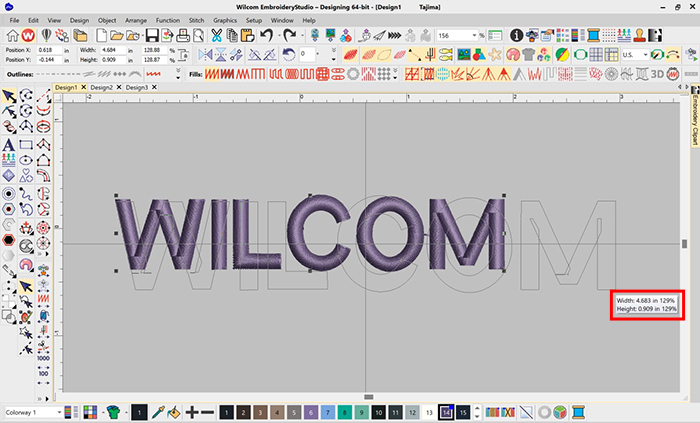 Let's assume you have a contract to make an embroidery design that will be used on both the back of a shirt and for pants pockets. The design dimensions for the back of shirts won't be the same as that for the pants pocket, thus, the need for resizing.
When it comes to resizing your embroidery design, the maximums and minimums for each stitch come into play. Note that stitches are split into satin stitch, running stitch, and fill stitch. Every design is based on these stitches, and their maximums and minimums are considered for every alteration.Knowledge of this is necessary to ensure good quality is maintained.
Wilcom embroidery studio solves this problem for you, thanks to the safeguard features incorporated into the software. The software filter detects and eliminates any stitch that may cause any issues in the end. And so, with Wilcom software, resizing isn't rocket science anymore.
3) Fabric Assist Tool: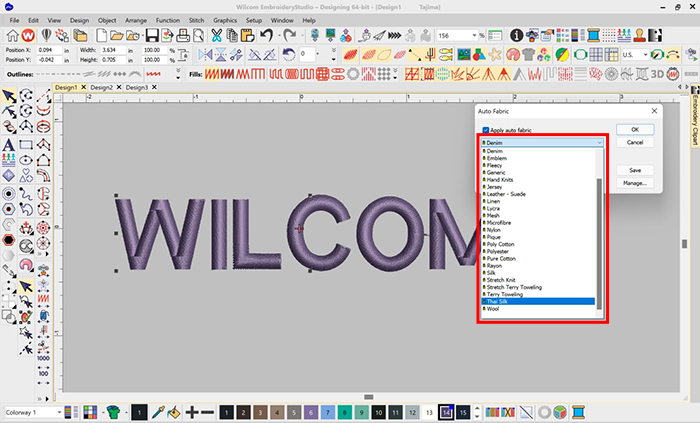 Another problem most embroiderers have is creating a different design based on a specific fabric even though the design is the same. For every material, density, stitch length, underlay type, and push and pull compensations need to be factored into the design for best results. This is time-consuming and reduces output. For instance, an organization intends to digitize the logo for embroidery on hats and shirts. Yes, one design will be used for both clothing, but since hats and shirts are of different fabrics, the design will be made specifically for each.
Wilcom makes this task an easy one with the fabric assist tool. You should first determine the material that is used and all stitch parameters adjusted for optimum results. So instead of re-digitizing a design for each fabric or changing stitch settings for every type of fabric used, you can get the exact parameters for your fabric just by the click of a button.
4) Embroidery Specific Alphabets: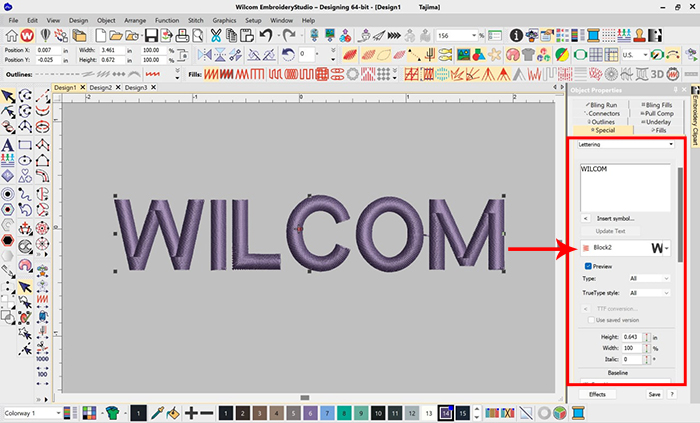 Clear and crisp lettering remains the target for a professional and satisfactory finish. You can use different font types for your lettering, but not all of them are of the same class. This becomes evident when you need to resize embroidery lettering when resizing the design. Wilcom maintains the quality of your letters, thanks to the embroidery-specific alphabets (ESA) in use along with the overall design resize.
ESA is 100% customizable and retains its quality throughout. This means just by clicking a button; you can have the letters reshaped and resized without losing their digital property.
ESA gives you more than just letter fonts as you also get shapes, glyphs, and fills to add effects to your design. With this tool, there are endless possibilities to what you can do with your design.
5) Automatically Assigning Stitch Properties: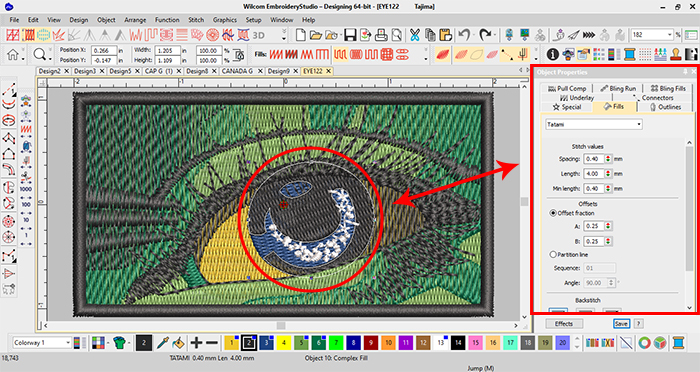 Using Wilcom software feels like driving on autopilot. Stitch properties are automatically assigned, and parameters are given based on the design dimensions you create. Most competitor software would require you to set up the properties yourself, which is a plus for Wilcom. Newbies in the embroidery digitizing will particularly appreciate having this task of setting properties for each design size lifted off their shoulders.
6) Auto-Branching Tool:
The quality of your design is also affected by the smoothness of your stitches. The auto-branching tool makes this possible by creating a path for your design so that the machine sews fluidly. With Wilcom's auto-branching tool, problems of jumps and trims are over. Apart from the smooth stitches you get thanks to this tool, it's also a time saver.
Conclusion
Cre8iveSkill provides the embroidery file formats that are digitized in legal wilcom software, Our team of digitizers loves to digitize embroidery in wilcom software. We Provides bulk embroidery digitization for your embroidery projescts. The growth in the embroidery industry provides ample opportunity for companies to tap into this gold mine. In the apparel market, embroidery has the largest market share at 41.4%, making it wise to embroidery digitize this industry to get the most out of it. Wilcom embroidery studio leads in the embroidery digitizing service industry thanks to its innovative features. They include EMB format, quick design resizes, and fabric assist tools, making Wilcom software flexible and time-saver.