---
Online Custom Digitized Embroidery
Embroidery Digitizing
Custom embroidery creates a major area of all the embroideries that being created today. Considering popular perception, embroidery today is no longer merely an embellishing art form. The major contribution comes from apparel decoration industry that has massively grown in recent years. Custom embroidery digitizing serves as the backbone of this major area as it provides digital files that are used for creating embroidery designs.
WHAT IS CUSTOM EMBROIDERY DIGITIZING?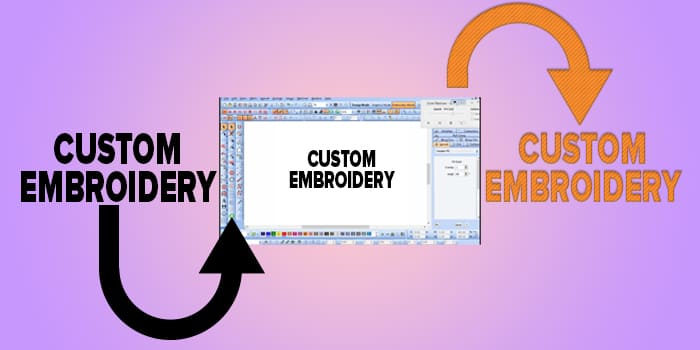 Digital Embroidery is the most appreciated apparel ornamentation method. It showcases a professional impression of a company's logo and gives an elegant and royal look to home textiles, accessories, and bridal gowns, and creates a distinctive look. Embroidery digitizing plays an important role in obtaining this distinctive look. The artwork for the respective silhouette has to be digitized very precisely that the machine output is neat with no breakage, sharp, and symmetrical everywhere. Embroidery digitizing is a process by which a piece of art or a digital logo, also known as an artwork, is converted into a stitch file.
Basically, it is a process by which the digital file is developed for an artwork. On the contrary, it is not as simple as it sounds. A professional embroidery digitizer is the one who is responsible for digitizing the artworks into stitch files using best in business software ensuring the best quality. The digitizer manually separates the types and patterns of different stitches that he thinks are suitable for different design elements. Digitizing software is required to start the process but involves very less automation and more of human efforts, both mentally and physically. A digitizer decides the number of stitches, the density of the stitches, and other basic details and inputs. Therefore, being a digitizer only requires plenty of practice and an adequate skill set.
Types Of Custom Embroidery Digitizing
There are various types of custom embroidery digitizing methods, each suited for different purposes and styles. Here are some common types of custom embroidery digitizing:
Logo Digitizing

Patch Digitizing

Cap Digitizing

Applique Embroidery Digitizing

Left Chest Digitizing

Monogram Digitizing

3D Puff Embroidery Digitizing

Chenille Embroidery Digitizing

Chain Stitch Embroidery Digitizing

Towel Monogram Digitizing

Badge Embroidery Digitizing
USES OF CUSTOM EMBROIDERY DIGITIZING?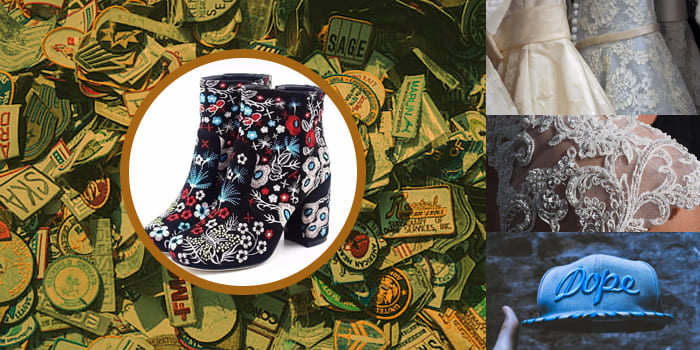 Talking about custom embroidery digitizing, in particular, it is usually for designs that are customized for businesses, individuals, and organizations. Custom embroidery digitizing is one of the most used tactics that is used for effective marketing for various companies/brands. Cosmetic brands, technology-related brands, food delivery companies, etc, use custom embroidered articles to mark their presence in the marketplace. We can more clearly understand this by having an example of a college annual festival. For promotion, they require their logo embroidered on different clothing articles. These articles hold very little significance for anyone not related to the event but as far as branding and promotion are concerned, it plays a significant role.
Next, we can take an example of a cricket team, their team jerseys, cheering merchandise, fan kits all can be customized to their team themes and designs. An amazing edge with customization is flexibility. Custom designs can be created and digitized from scratch or a sample image can be taken up, vectorized and then digitized. The scope of custom digitizing is very vast. Almost every type of business, academic institutions, social causes, almost all of them use custom designs occasionally. Also, all the sports, their teams at every level need custom digitization of logos. That's a lot of volumes, right? Now, think about different interest groups like music and sub-interest groups like a particular brand of a particular niche. The magnitude of the industry will surely have you in shock. But what if I say that's not entirely just this. Another important aspect of this industry is also from niche stores. Custom digitized embroidery designs are a great way to personalize different ornaments and clothes. Individuals on their own can create designs that they or a very small group along with them find captivating. Let's say for spa centers, they need their logos embroidered on aprons, towels, and whatnot. So, the custom digitized embroidery not only limited to masses but also accessible to smaller groups like salons, spas, food chains, etc.
DIGITIZED EMBROIDERY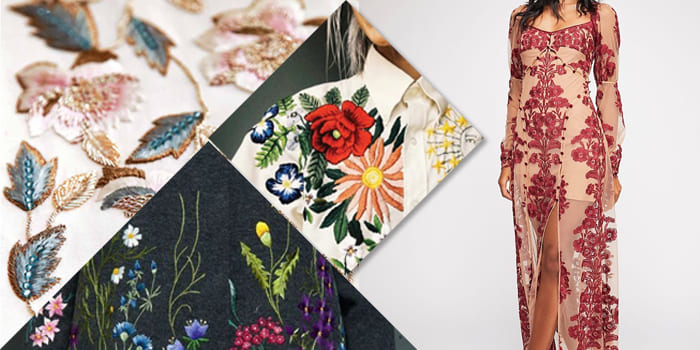 Embroidery digitizing is a specialized job. The embroidery digitizer must be highly skilled and experienced to come up with stitch files that render a great sew out. These skills require years of hard work to acquire and cannot be learned overnight. It includes buying of software that obviously costs a bomb and also incurs the costs involved in learning the skill. Digitizing also requires regular quality checks by sampling the digitized file. Why invest so much time and capital? These services can be easily outsourced. We are in the era of globalization. Firms like Cre8iveSkill provide online embroidery digitizing and graphic design solutions to clients, worldwide. With experience of more than 2 decades, Cre8iveSkill ensures the best quality and amazing turnaround time of just 12 hours with attractive competitive pricing. A team of highly trained and skilled graphic designers and digitizers work round the clock catering to all-time zones to provide the best in business services. Interested? Get A Quote Now! Mail Us: info@cre8iveskill.com Contact Us on Whatsapp: +919130010350