---
What Benefits You Get From Professional Embroidery Digitizing Services
Embroidery Digitizing
Regardless of what you are hoping to make promotional things, for example, modified T-shirts or carry pouches, embroidery digitizing firms, make it easy to create your ideal desired stuff. It is likewise a reasonable strategy through which you can change the logo into an improved form of the embroidered design. Here are some of the benefits that you get from embroidery digitizing services and help you to understand the importance of getting the best embroidery digitizing service.
Use The Experience Of Experts Embroidery Digitizers
Experienced companies like Cre8iveSkill have a team of skilled embroidery digitizers and graphic artists on staff with years of impeccable experience. Whether it is vector conversion or embroidery digitization, Cre8iveSkill can efficiently do the job for you within the turnaround of just 12 hours at amazingly competitive pricing. The major benefit of getting the assistance of digital experts is that you can get an appealing embroidered item. And you can see the difference yourself.
An Quick Turnaround Time
In embroidery digitizing work, you need someone who can hastily do the transformation for you. If you have an inexperienced worker then it may take very long to make the stitchable item of artwork from the logo. You should hire professionals who take hold of your artwork and convert it into the best quality of beautiful vector art or digitized embroidery within no time and amazing competitive prices. They use the best in business software like CorelDRAW, Adobe Photoshop, and Adobe Illustrator.
Experienced digitizers and designers accept artwork in any format like jpeg, png, pdf, etc, and provide it back with all file formats as desired by the customer. They can do it fast and efficiently as compared to the beginner. After all, experience matters. Cre8iveSkill is one such digitizing firm with over 2 decades of experience which houses a team of highly skilled and trained graphic designers and embroidery digitizers who put their heart and soul and work round the clock catering to all timezones.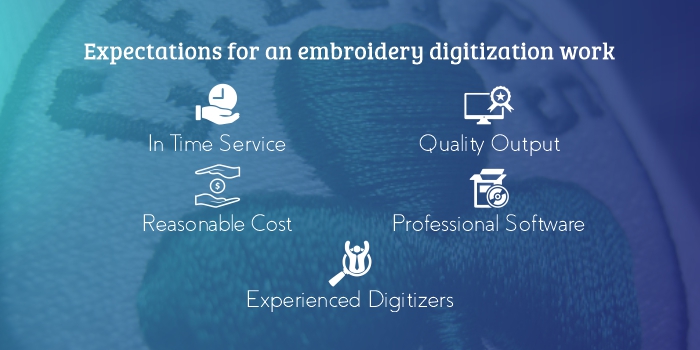 Access To Customized Software Program
Do you own a copy of the WILCOM software program that is used in the production of embroidery artwork guides? Top-rated embroidery digitization companies have the skills and expertise to use the specific software programs that you need to embroider T-shirts, caps, and other promotional items. Getting high-quality and professional embroidery digitizing services gives you numerous benefits and allows you to achieve your business goals. It saves your time and enhances productivity for your business. You should also have a clear idea of vector artwork pricing and other costs that you have to pay to digitizers, so you can manage your budget accordingly. Cre8iveSkill ensures the best quality with a turnaround time of just 12 hours at an amazingly competitive pricing of just $1.50/1000 stitches!!!
ADDRESS: Orange Tree Garments Cre8iveskill C-Wing, Ground Floor (W building) Mihan, Nagpur, Maharashtra - 441108, India Email Id: info@cre8iveskill.com Phone No.:+91-9130010350 Whatsapp No.:+91-9130010350 Skype ID: debashish.g1971 WHAT ARE YOU WAITING FOR? GET A QUOTE NOW! And get your dreams digitized!