---
Digitized Embroidery - Complete Guide to Techniques Involved
Embroidery Digitizing
Digitized embroidery is an exciting technology that has been rapidly growing in popularity. Read on to learn more about this innovative process and what it can do for your business. Digitized embroidery is a great way to create custom designs, transfer images onto textiles, or digitize artwork from sketchbooks into real-world creations! Many companies take advantage of the limitless creativity digital embroidery offers by using it as an advertising tool for their brand or company logo. The sky's the limit with this new form of artistry!

The textile industry is a vast industry that involves the production, marketing, and sales of textiles. Digitized embroidery has been around for decades, but it is becoming one of the most popular forms of textile decoration. This form of decoration offers many benefits over conventional embroidery techniques such as higher speeds, fewer labor costs, flawless and vast creativity, and improved quality.

You'd think that as the industry is so vast with so many choices, it'd be challenging to indulge in, right? But it's entirely the opposite. It's just a matter of finding the best in this industry, like Cre8iveSkill, to take care of your needs. You'd then be relaxing on your couch while having your imagination come to life with digitized embroidery.

Embroidery allows you to use your computer to create custom designs for apparel and fabric items of all kinds - even home decor! Once you've chosen a design, the machine stitches it onto whatever item you want using its needle and thread or yarns. While clothing manufacturers have used traditional hand-embroidery since ancient times, digitized embroidery brings more innovation, limitless creativity, and a wide variety of choices to the table.

Let's get to know more about what embroidery digitizing is and what techniques and processes it involves.
What is Digital Embroidery?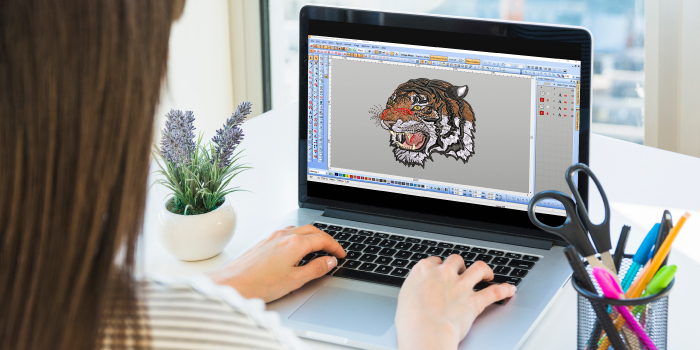 The term embroidery is often banded around and used interchangeably with 'sewing,' but they are not synonymous. Traditional hand embroidery is a form of needlework that uses strands of thread to stitch designs onto fabric or other materials by hand.
Digital embroidery, on the other hand, in simple words, involves turning an image or logo file into an embroidered pattern with the help of software so that the machines can follow the exact design during stitching. The types of embroidery digitizing are selected based on the requirements, design, and material.

However, embroidery digitizing isn't as simple as uploading your image file to the embroidery machine and setting it to work. It's much more sophisticated than that and requires skilled hands. Converting the images digitally into embroidered designs is not 100% automated because the machines cannot recognize and read the same files that your computer can.

So we have to convert them into a digitized design because that's the language an embroidery machine can understand.

Hence, digital embroidery is a more challenging, complex, and unique technique, the output of which fares far better in quality than traditional hand embroidery.
How Has Embroidery Digitizing Been A Game Changer?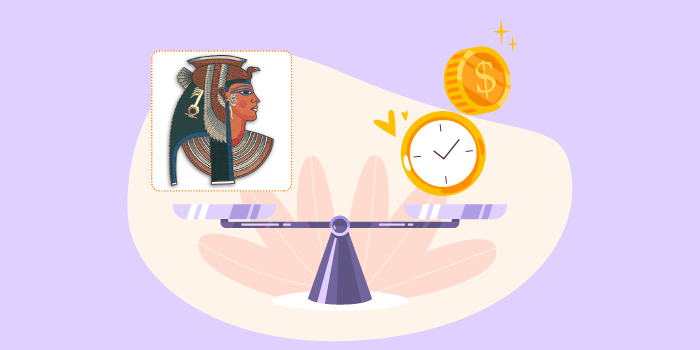 The modern embroidery field has seen a lot of change in the past few years. It is now common for designers to digitize their designs before sending them to an embroidery machine. There are many advantages of doing this, the first one being that it saves time and money, which is great for both customers and designers. The most important benefit is that digitizing offers more design options, which leads to better end products!
With more choices, more innovation, and more affordability within less time, you can get it all with digital embroidery.
How is Embroidery Digitizing Carried Out?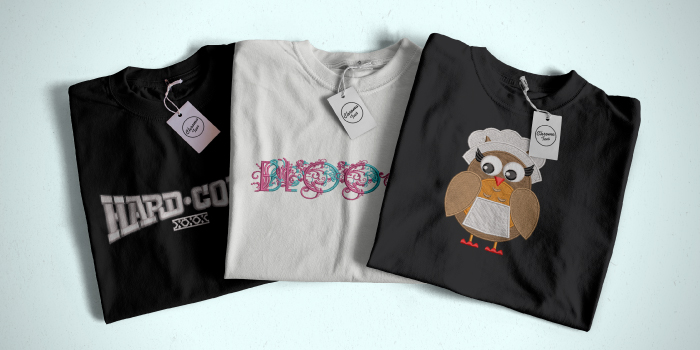 Digitized embroidery uses computers and advanced technology to create stunning designs that are unique and easy to use. This new method has advantages over traditional hand-embroidered garments such as speed, more detail/variety in design options, and low cost compared with other forms of embellishment (e.g., beadwork).

While it's not necessarily meant to replace traditional methods forever, digitized embroidery offers consumers an affordable way to add interest and depth to their attire for any occasion or season. Digitized embroidery is simply a modern way to bring together old and new embroidery techniques.
An embroidery machine can create designs with the help of embroidery digitizing, which could not be made otherwise because they are too intricate or detailed. It's an exciting process that allows for more creative freedom, making it perfect for those who want to make their designs stand out from the crowd with a traditional but unique (and even better) look.

Digital embroidery has ushered us into a new era of creative freedom that was impossible with hand embroidery. It has enabled textile customers to choose an embroidery pattern and convert it into a digital file with minimal effort. This file can then be used in embroidering or printing on fabric with the help of any machine. Digitizing has made life easier for fashion wear consumers and textile customers because they no longer have to spend hours creating their own designs for printing or stitching on clothes and other accessories.

There are many different types of embroidery digitizing. It is up to the designer which type they choose for their design, depending on what effect they are looking to get from it. Here are some common types of embroidery digitizing that can be used in the textile industry and fashion wear designs.
The post goes into depth about the different types of embroidery digitizing and provides examples of each one.
1. Flat Embroidery Digitizing: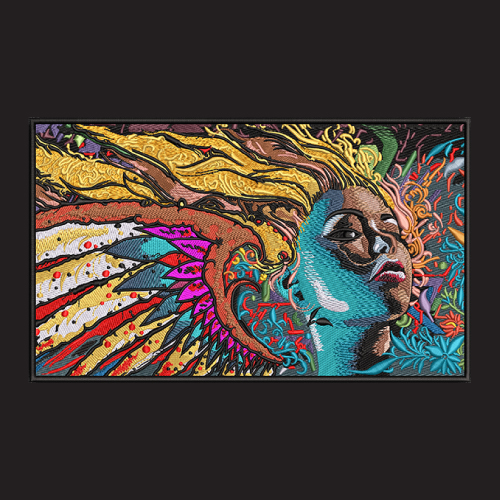 One of the most common ways of digitized embroidery is flat embroidery digitizing. It involves the application of pattern stitching directly onto the fabric backing to create an elaborate flat design.
This process does not distort the images & designs, hence making it very popular for embellishment. Flat embroidery digitizing is mainly used when the patterns to be stitched are sophisticated and detailed. The created designs may not be as flashy and bold as the other techniques. Still, you won't have to worry about the distortions in the design or logo when you create intricate designs with flat embroidery digitizing.
2. 3D PUFF Embroidery Digitizing: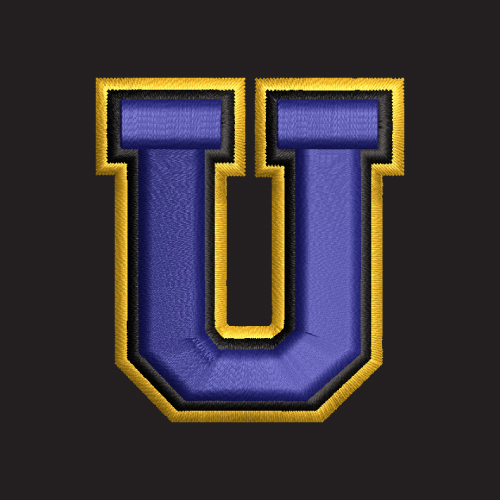 3D puff embroidery digitizing is created for 3D embroidery in which the surface of the design is raised by placing a foam underneath the embroidery stitching. It gives the digitized design a three-dimensional & aesthetic look by making the design stitches stand out on the fabric.
3D puff embroidery digitizing is perfect for simple designs and logos without any complexities, for instance, initials & alphabets. Likewise, it's primarily used for bolder and bigger designs that are supposed to stand out and get noticed.
3. Applique Embroidery Digitizing: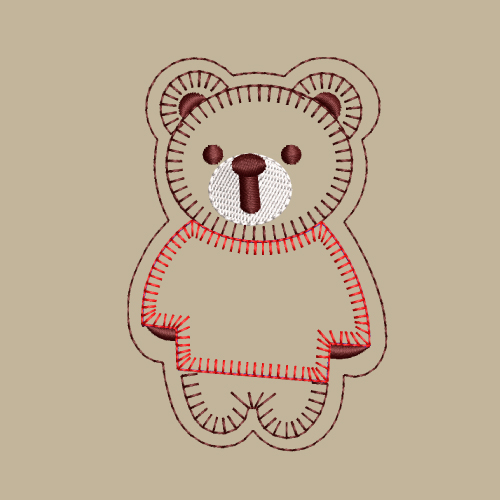 In applique embroidery digitizing, designs are made by sewing or sticking woven pieces or fabric patches onto the larger pieces to form a specific pattern. More extensive patterns are created by attaching various smaller designs. If you want to personalize a design or give it a personal touch, this method would be best suited to make it unique and more beautiful.
Applique embroidery digitizing is mainly used for decorations on garments or as badges for organizations and institutions. Quilting and banner-making processes also make use of the applique, digitizing extensively.
4. Chenille Embroidery Digitizing: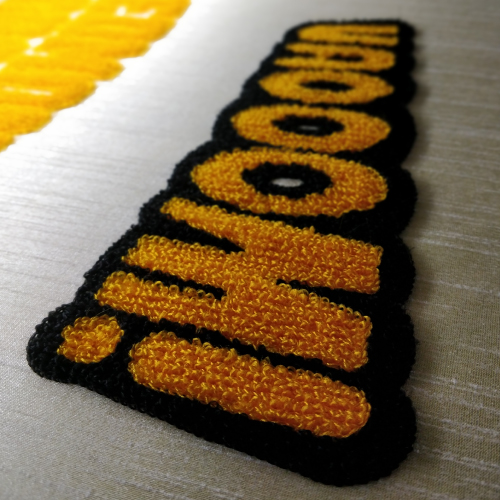 Pretty sure that you must have seen a few digitized embroidery designs with soft and fuzzy fabric. That's all thanks to the Chenille embroidery digitizing. Chenille is made from twisting together short yarns (silk + wool or cotton), giving it its characteristic softness and texture. Special care is taken regarding the yarn density while making designs with the help of Chenille digitizing.
This technique works best for more extensive and plainer designs that have a felt backing. The designs' softness and textures in Chenille digitizing set them apart from the other types of embroidery digitizing.
5. Sequin Embroidery Digitizing: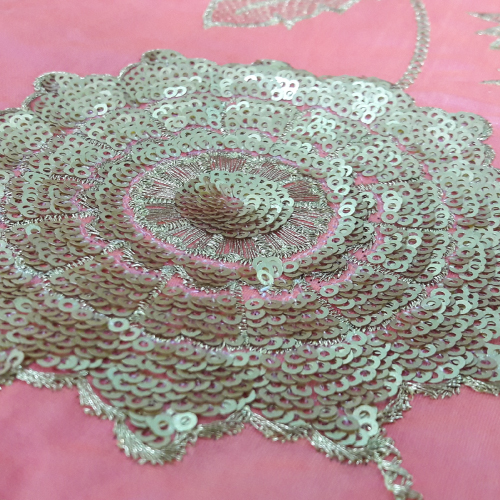 For Sequin embroidery, the machines have to be equipped with a sequin dispenser. The dispenser drops sequins onto the fabric as the machine continues to stitch. Sequin embroidery includes plastic disks, material, a textured surface, and a high shine in most cases.
This process is, in fact, truly worth the experience as it is easier to get excellent results and high-quality designs. Sequin embroidery digitizing will help your fabric design surpass other designs in uniqueness and excellence.
However, if any wrong design is chosen, the uneven, raised, and unstable sequin structure will adversely affect the covering stitches. So our team at Cre8iveSkill makes sure to consider only the correct selection of compatible designs for sequin embroidery digitizing.
6. Cording/Taping/Coiling Embroidery Digitizing: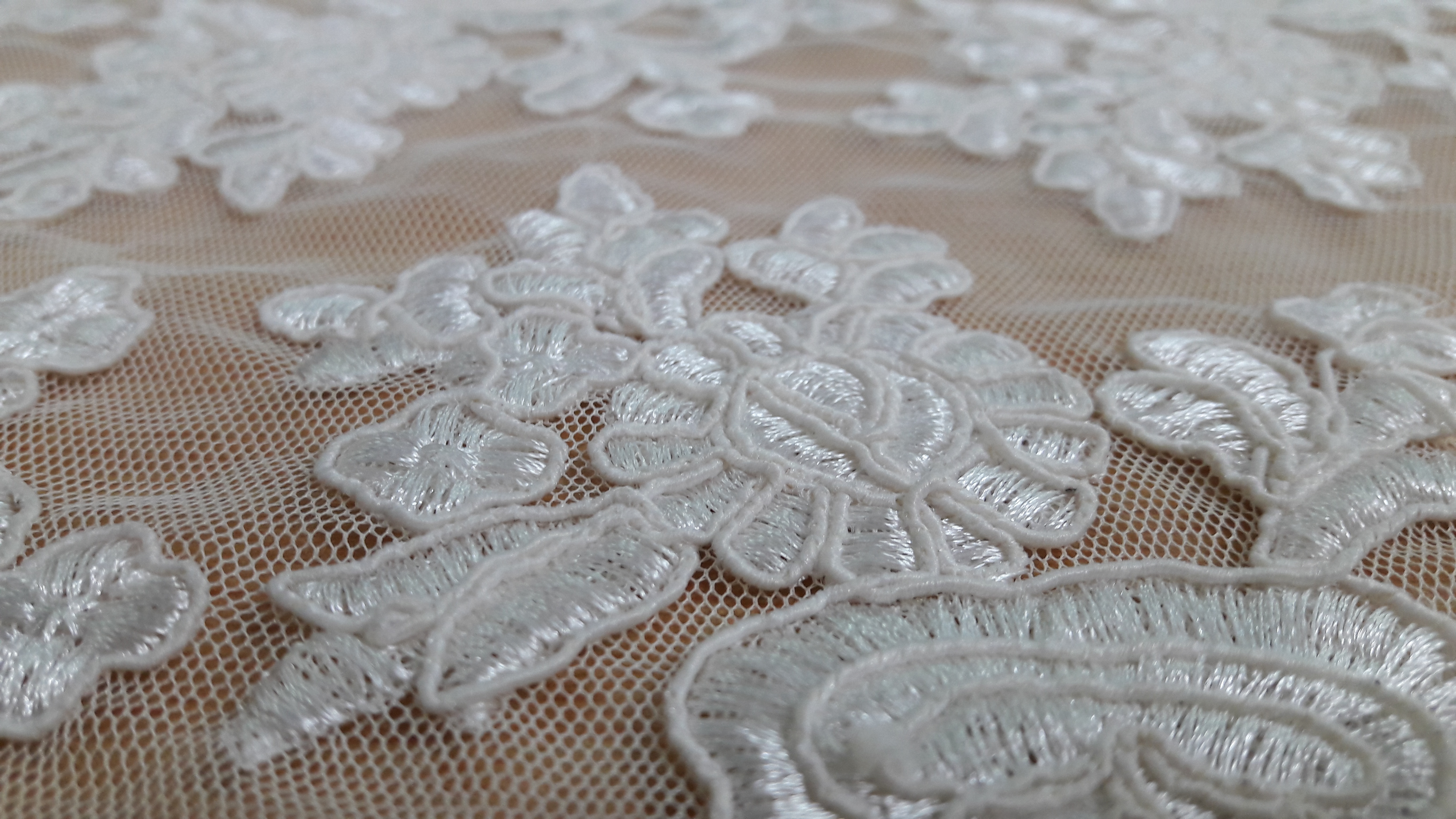 Cording or taping embroidery digitizing involves the creation of original convex designs to create a 3D effect. This type of embroidery digitizing is mainly recommended for children's products. It allows you to create unique designs using ribbons and beads and combine them with other decorating materials such as pearls and jets.
Taping means sewing on the cord along its middle to make it flatter and more expansive.
The design includes wrapping the colorful threads around a core thread attached to the base material in coiling digitizing. It hides the base stitches and avoids having any additional stitches or materials on the bottom side of the garments.
7. Chain Stitch Embroidery Digitizing: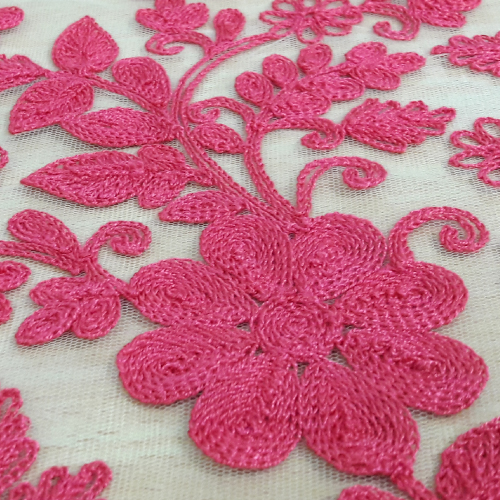 Chain stitch digitizing is best suited for designs that include loops and stitches to form chain-like patterns. This technique is usually laborious and challenging as compared to other types of embroidery digitizing, and the designs may not come out to be very aesthetic. Additionally, it uses a lot of thread.
On the plus side, digitizing the chain stitch embroidery helps create thick textured lines and ensures that chain patterns are perfect in the source images/designs.
8. Photo Stitch Embroidery Digitizing: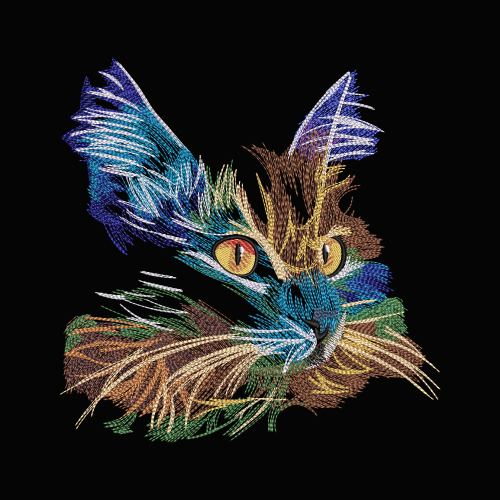 The process of photo stitch embroidery digitizing makes the design on the material consequently look like an artist's work on canvas. It includes multilayered and multi-colored stitching that provides the design with its volume and color tone modulation. Photo stitch embroidery digitizing has some characteristic features that include bigger design sizes and a considerably large number of stitches.
Hence, the digitization of photo stitch techniques executes the designs and coloring masterfully and harmoniously. In addition to that, you will be thoroughly satisfied with the work of art that photo stitch digitizing produces.
9. Borer Embroidery Digitizing: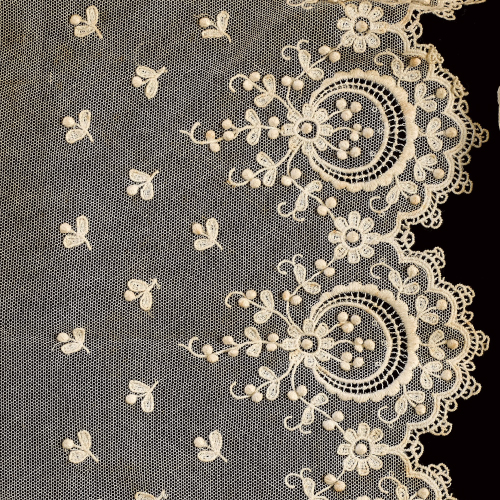 The machines at Cre8iveSkill are equipped with boring tools (knife, needle) to cut holes in the fabric. Borer embroidery digitizing consists of designs having borer holes due to the needle penetrations, regardless of the stitch types. This type of embroidery is commonly stabilized with zigzag and satin stitching to prevent the fraying of threads.
Borer embroidery digitizing is one of the most complex and challenging types of embroidery digitizing to muster. Still, our team at Cre8iveSkill has ensured that this process is masterfully executed to perfection to give you the flawless results that you want.
10. Freestanding Lace Embroidery Digitizing: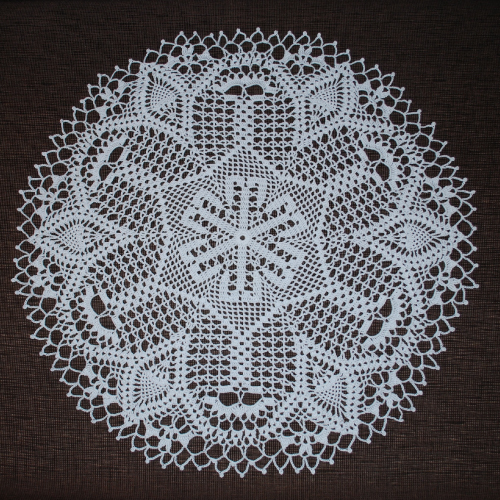 How can making laces not be addictive? It definitely is.

This technique helps create beautiful, airy patterns that you can make into different items or accessories like ornaments, covers, etc. The machines stitch out the specially digitized designs in the form of laces onto a water-soluble stabilizer. Once the pattern has been created, you can rinse the stabilizer away to leave the mesmerizing lace design behind.

Cre8iveSkill excels in this type of embroidery digitizing. In fact, our skilled experts and the machines that we use ensure that the lace patterns are gap-free and freestanding, thereby preventing the prevalent issue of gaps between the inner netting designs and the satin stitch borders of the digitized embroidery pattern.

The embroidery digitizing industry has come a long way in the last few decades. The technology is constantly evolving so that it can provide more efficiency and reliability in the market. And all the techniques that we've just mentioned are a testament to that fact.
Which One Should You Opt For?

Have you ever had that moment where you're out and about and stop to admire the embroidery on a dress or jacket? Maybe it's an intricate design, like the one on a Ralph Lauren silk blouse. What is your favorite technique for digitizing embroidery from all of the ones I have mentioned above? Some people prefer using 3D puff embroidery digitizing for quick embroidering jobs to make them stand out from the rest. Others find it more cost-effective to use flat embroidery digitizing, as seen in a few vintage Chanel jackets.

Deciding which method is most effective isn't just up to your mood or choices, unfortunately. It comes down to several factors like your budget, the materials to use, types of fabric and thread, color contrasts, longevity, and the exact requirements.

Each of the embroidery digitizing techniques is simply superb to get the work done. But the choice would still be dependent on your requirements and needs. For example, applique embroidery digitizing is best suited for use on official uniforms and garments of law enforcement institutions. 3D puff embroidery digitizing is best suited for hats and casual leather jackets. Thin fabrics and sturdy fabrics would involve different digital embroidery techniques.
Talk To Experts To Help You Choose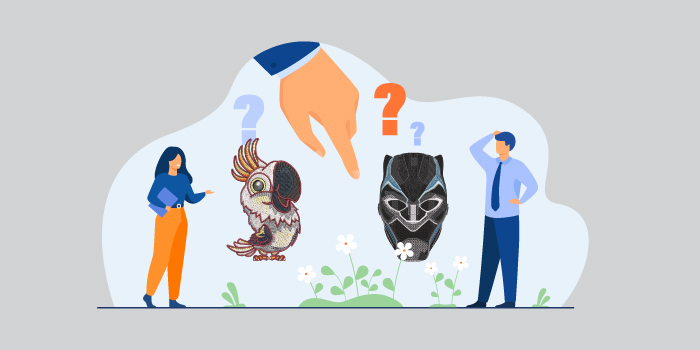 In such a scenario where you cannot decide or choose the best technique for your digital embroidery designs, always seek professional consultation of embroidery digitizing services to help you choose the one that is best suited to your needs. The experts will take your needs and requirements into account and then suggest the best possible way out so that you can have a top-notch experience with your designs, portraying your values and branding efficiently.

To take away your hassles of doing so, Cre8iveSkill steps in to take care of your needs. One of the most critical aspects of an embroidery design is its flawless quality and seamless appearance. For 25 years, we at Cre8iveSkill have been doing just that in our digitizer embroidery service!

We believe in reinventing artistic endeavors without compromising the quality of your designs. Our professional embroidery digitizers design everything according to your requirements. We are honored to have a dedicated team of skilled professionals, designers, and embroidery digitizers who are impeccable with their work to deliver our client's design needs. Every single one is handled with care by an expert staff who knows how important this work really can be for you!

Top-class quality and maximum efficiency with the help of state-of-art equipment is our trademark, so you don't have to worry about anything but getting your designs digitized just right. Hence, Cre8iveSkill is your go-to if you want to take designs to a whole new level of creativity and imagination affordably.

You don't have to do much; we are just a few clicks away. So contact us right now and let us turn your vision into a unique design that speaks out your values and standards loudly and clearly.