---
What Is The Coloreel Technology?
Embroidery Digitizing
Calm down... Calm down... Ok we know it's exhilarating that there's a new technology that has become the talk of the town. We know you are excited to know all about it- the new Coloreel technology! It caught everyone's attention, and why not? It has the potential to start a new chapter in the history of embroidery making. Coloreel Embroidery is distinctive and eye-catching and aims to alter or promote how people perceive your brand, your design, or your product. With the help of an endless color palette and your creative imagination, Coloreel allows you to convey your narrative freely and precisely. It is unbridled artistry.
Think of getting something unique that our competitors cannot submit. Now think that you are being able to begin working on embroidery on the digitization you receive from us and start collaborating with new clients immediately while simultaneously enabling speedier delivery of difficult projects. Coloreel technology means you can avail of any color in any pattern at any time with precise color matching. It also means you can offer more real and distinctive embroidery while being more environmentally conscious. The technology enables you to improve the efficiency and quality of your embroidery process, propelling your business forward.
What Is Coloreel? Why Is There Such Hype About It?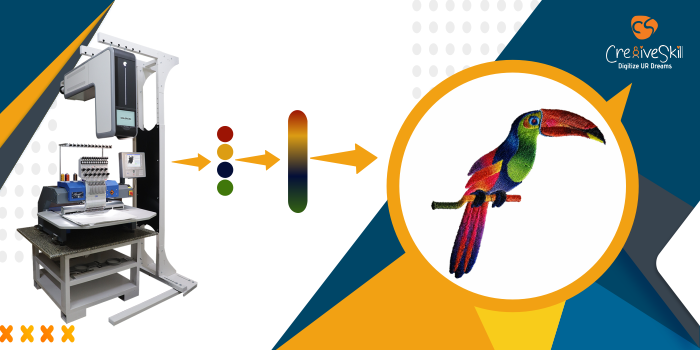 A world of opportunity is opened up by Coloreel, a Swedish textile innovation company with fantastic and one-of-a-kind embroidery technology that allows high-quality textile thread coloring on demand.
It employs technology to advance embroidery while also preserving its fine adroitness. The original approach makes previously challenging designs, including gradients, textures, and other beautiful effects, comprehensible. It gives you the ability to start up immediately and deliver goods more quickly, which also delivers considerably increased quality and efficiency. In other words, Coloreel makes the ordinary extraordinary by fostering creativity and improving quality and efficiency.
Why Is Coloreel Embroidery Different?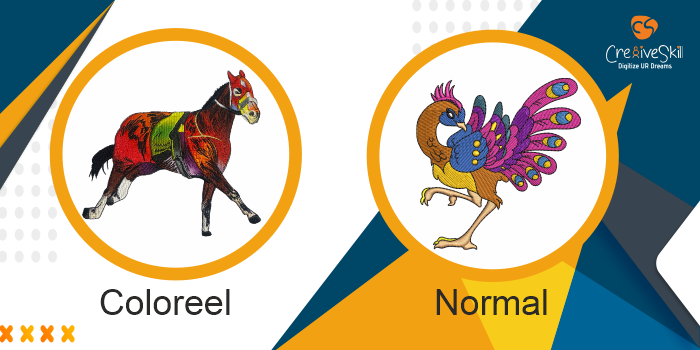 Coloreel embroidery requires you to think differently than when you are designing regular embroidery. The new and booming Coloreel technology uses simply one needle for all colors. This means for all the shapes that are connected in your embroidery you do not need to trim, lock or tie in to get a smooth and rich look. However, this requires you to digitize the Coloreel embroidery with care and precision. Because there are so many colors available, it is possible to create fresh, intriguing embroidery designs that use effects like noise, gradient, shading, stitch patterns, and smooth color changes that can be freely combined. Only your imagination confines the design freedom!
The system minimizes thread reel changes by automatically dyeing the thread as it is produced, allowing you to manufacture more promptly with a variety of colors and to quickly transition from one job to the next without changing reels. As a result, setup time is drastically decreased, and the performance of complex designs can increase by up to 300%.
Why You Should Choose Coloreel Technology When You Already Have The Traditional Way Of Machine Embroidery?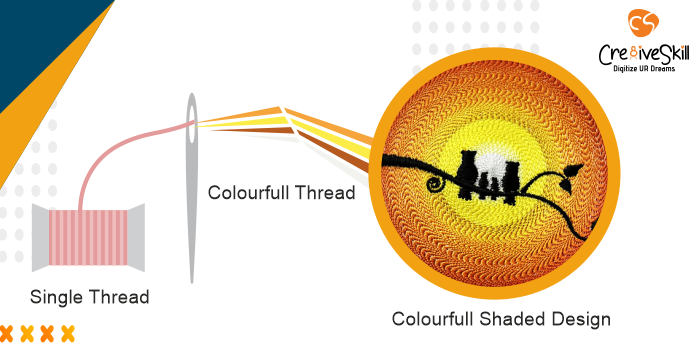 Coloreel is the new technology that advances the traditional ways in many ways, ways which are not just beneficial for your pocket, but also the world at large. The technology, as said earlier, uses a single thread mechanism to make the complete design. This not only gives your design a sleek look but also has significant implications for sustainability. Wasted ink is significantly reduced, while water consumption is reduced and production rates are raised. The technique enables shorter set-up and lead times, as well as greater flexibility in production schedules while removing the need for massive thread inventories.
Remarkable Coloreel Embroidery Digitizing Requires Expertise!
Every embroidery design needs a digitized file with specifications regarding the thread work and colors to turn out to be amazing. The digitalization of embroidery resembles the use of stitches in painting. There are regulations in place, just like in painting. Learning to use digitization software and understanding the physical characteristics of machine embroidery are the two main components of digitizing. The actual learning curve starts with selecting the appropriate stitch type and thread direction. Be it the normal embroidery digitizing, patch embroidery digitizing, or the new Coloreel Embroidery Digitizing. Each of them has a unique way and inimitable software specifications. And although you get free software, there are numerous reasons to hire a professional, experienced and certified digitizer to get the job done.

Don't believe us? Well here are a few benefits of hiring an Embroidery digitizer -
Certified Coloreel digitizing experts offer many advantages for an embroidery design's digitized file such as:
A certified embroidery digitizer is a pragmatist who can guide you on a practical approach to the unlimited colors, designs, and patterns to help your embroidery design stand out.
They can deliver High-quality, fast, and affordable digitized embroidery.
They can help with revisions as and when needed.

We Bet Cre8iveSkill Is Your Best Choice For Coloreel Embroidery Digitizing!
As sensational as Coloreel's innovative technology sounds, it needs an expert hand in the digitizing of your project. Here's where we, Cre8iveskill, step in! We have an in-house team of Coloreel Certified Digitizers who know the professional ins and outs of Coloreel embroidery digitizing. With our help and realistic approach to your ideas, you can have the best projects made swiftly. But as we said in the beginning, there is an essence we add to this equation. Cre8iveskill proudly owns an in-house Coloreel sampling machine. This means that you can have a sample of your designs after they are digitized. By this, we reduce 99.9% of the design issues, which otherwise occur where there is no sampling of your artwork done. Moreover, we provide this at a considerable, affordable, and competitive price. We consider our client's needs a priority and we promise to deliver your digitized files in time. Keeping up with our reputation, we provide 24/7 assistance to make sure that you get what you expect out of us. Reach out to us now from our contact page. We are exuberant to be at your service!