---
Importance of Professional Photo Editing Services for Online Businesses
Vector Art
Photos are powerful things that entice human emotions amazingly as they allow people to get back to memories of pleasurable moments in their lives and see things from diverse perspectives.
With the digital revolution and the rise of social media platforms, visual communication has taken over the world, and photos are no longer limited to nostalgia and entertainment. Today, photos & vector art designs are intensively used for promotion and advertisement purposes across industries as part of marketing campaigns on the internet.
Photos And Visual Marketing
With technological advancements, mere text-based promotions make no sense as the world has become more visual-centric. As over 65% of people prefer visuals over text to learn and understand things, the importance of professional visual presentation is undeniable. Photos, with their simplicity, are an excellent visual medium for attracting, engaging, and building credibility with the right customers. In the absence of physical touch, product photos allow customers to determine if a product is exactly what they are looking for, helping them to make purchase decisions.
Well, not all product photos work the same way, and only relevant, high-quality photos play their role better. Considering the fact that no commercial photo is effective in attracting targeted demographics unless it's close to perfect, photo editing is an essential part of giving the finishing touch to photos that cater to the promotional needs of your online business.
Although there are numerous types of photo editing services such as photo restoration, photo retouching, color correction, clipping path, photo masking, shadow services, etc., this article will focus on the two most commonly used photo editing processes: Photo retouching and image masking
Photo Retouching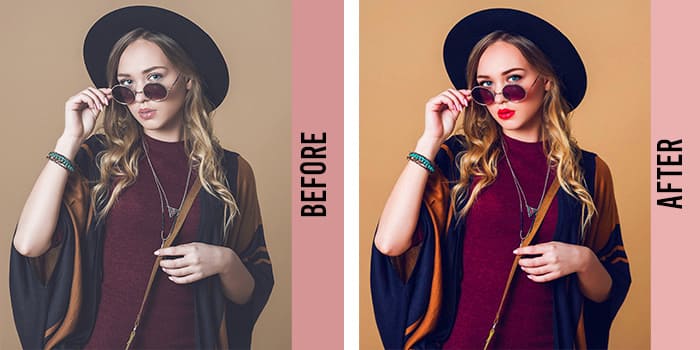 The process demonstrates the vibrancy of photographs while keeping the integrity of photographs intact and thus helps you produce high-quality photographs. Essentially, the term refers to improving the appearance of images by removing imperfection-causing objects such as dust and dirt on camera lenses, increasing saturation, or removing physical flaws.
This is a more involved process that goes beyond basic photo editing and involves adding specific effects and going above and beyond to give photos the finishing touch through delicate retouching that preserves the details and natural texture of the photos.
Some of the most common photo retouching techniques, such as
Frequency Separation:
This is an advanced technique that allows an editor to separate high and low frequencies and work independently on each layer to fine-tune the delicate texture and color of the photo. The process is particularly useful in smoothing the texture of the photo in considerably less time.
Spot Healing:
The powerful technique of cleaning up unwanted objects from the photo including minor objects such as spots and blemishes, all the way to removing an entire home from the background. The spot healing brush automatically takes a sample from the surrounding area and works by sampling pixels.
Dodge and burn: Fundamentally, the technique is based on the traditional darkroom concept of regulating exposure on a specific area of the photo to set the right contrast before printing. For digital photographs, programmes like Lightroom and Photoshop are useful for creating lightening or darkening effects.
Clone Stamp:
Clone stamp is very effective for sampling a portion of a photo and then using the same sample to paint over another area of the photo. Applications include changing the product names in a photograph and replacing an object that is obstructing an important part of the photograph. This can be accomplished constructively with the help of the clone stamp technique.
Image masking
It is an easy, convenient, and innovative photo manipulation method executed using graphics software to edit, adjust, hide, and reveal portions of a photograph by painting on a layer mask. The process is non-destructive, allowing for the modification of a photo's effects or background without affecting the original image, and in the case of accidental editing, an editor can undo those unwanted effects immediately to maintain the original details of an image.
Although there are more than a dozen techniques for image masking, this article focuses on the three main image masking techniques that help to give rousing effects to images that appear natural.
Layer Image Masking:
This is the most commonly used pixel-based image masking technique that allows editing multiple areas of an image or altering the visibility of layers based on requirements. The technique is also useful for adjusting the opacity of different parts of an image, adding adjustments and removing background without adversely affecting the original image.
Clipping Image Masking:
Clipping image masking is another proper technique in which an editor puts a layer beneath another layer and the layer beneath controls the transparency and visibility of the layer above. Generally, the method is used to create customized graphics and shapes.
Alpha Image Masking:
This technique is ideal for masking out fine details in an image such as hair, fur, or fibre and maintaining the natural state of these elements.
What Are Professional Photo Editing Services?
Professional photo editing services offer reliable and a variety of choices to clients like photographers, magazines, studios needing outsourcing partners for editing, modeling agencies, and commercial companies by amalgamating expertise, skills, technologies, and professionalism.
Because of their ability to produce high-quality images according to their client's requirements, outsourcing photo editing services has become one of the most effective strategies used by business owners to advertise their products and services in recent years.
The Vital Role of Professional Photo Editing in Online Business Success
In an era of intense competition in the marketplace where several competitors try to attract the same audience with similar products and services, you have to represent your business offerings in a unique way to stand out. According to CrowdRiff, 63% of customers give preference to the quality of images over product descriptions, and 67% of product users affirm that attractive images influence their purchasing decisions. In a nutshell, consumers are more likely to associate photos with the quality of the product or service.
It is obvious that lucrative images of the product or service are vital as it allows online buyers to understand the business and help build a positive perception of your business brand among your target audience. Photo editing services make sure they give existing or new product photos a superior appearance, giving your online brand an advantage over competitors in a niche market.
Why Choose Cre8iveSkills?
Understanding the importance of visuals such as graphics and photos to boosting sales, Cre8iveskill, one of the major photo editing service providers, assisting clients across domains in crafting photos that cater to the promotional needs of their online business.
By using edge-cutting technologies, tools, and most recommended software Cre8ivSkills photo editing services ensure vibrant and clear images tailored to your business requirements. From a business standpoint, Cre8iveskills photo editing services help by providing end-to-end photo editing solutions to plan the expansion strategies of your business brand.