What Is Towel Monogram Embroidery?
Towel monogram digitizing and embroidery is not much different than other forms of machine embroidery, nor does it need specialized embroidery machines capable of executing it. It all boils down to the way the design is specially digitized for the towel fabric.
Towel fabrics are tricky, so the design and embroidery monogram fonts must be flawless. The towel monogram is made suitable to be embroidered onto the fabric by choosing the most appropriate underlay and, furthermore, by compensating using push and pull for this specific tricky fabric.
Why Go For Towel Monogram Embroidery?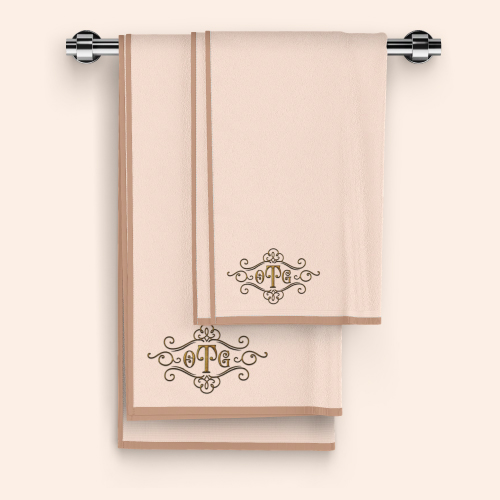 Towel monograms are a great way to add a touch of personality to any bathroom. Plus, they're easy and affordable to create with the help of a digitizing service. If you're looking for a unique way to personalize your towels,monogram turkish towel, monogrammed pool towels, embroidery initials designs on towels, all will be done with towel digitizing services. We will provide digital monograms design for machines. consider embroidering your monogramming on towels. Embroidery digitizing makes this process impeccable and accurate, so you can be sure your towels will look great with applique monograms.Machine embroidery monograms gives the perfect look to the towel.
The most prominent use for this may be in the hospitality industry, where everything is branded with an embroidered monogram of the company, from waiter's uniforms to bedsheets and monogrammed beach towels.
Why Choose Cre8iveSkill?
We have a highly dedicated and skillful team of professionals, designers, and embroidery digitizers who make your satisfaction and peace of mind their utmost priority when it comes to delivering what you need. We provides towel logo digitizing services with best quality and quick turn around time. An experience of 25 years allows us to be impeccable flawless at towel monogram digitizing and embroidery. So just sit back and relax, knowing that the experts here at Cre8iveSkill are taking care of your needs.