---
What Is DTG Printing, How Does It Work, And What Are Its Advantages?
Vector Art
You might be new to the print-on-demand industry and have come across the concept of DTG (Direct To Garment) and are wondering what exactly it is. Well, despite only being around for two decades, the changes the process has brought to the print-on-demand industry in such a short span are astonishing.
Keeping in mind recent trends toward customized garments and apparel, small to large businesses in the industry are increasingly adopting DTG printing, along with vector art conversion services, to upgrade their print-on-demand businesses and produce vivid and stunning prints as per their customers' requirements. Vector art conversion services play a crucial role in transforming complex designs, logos, or illustrations into scalable vector format, ensuring optimal print quality and sharpness. This combination of DTG printing and vector art conversion opens up endless possibilities for customization. Whether you're looking for a sophisticated logo on a t-shirt for brand promotion or an exotic design on your fashion dress, the process has a lot to offer!
To make you understand DTG printing better, in this blog I am going to give you a brief overview of the process. Knowing more about the process is going to incite you to reap the benefits of DTG on your next garment print need.
What Is DTG Printing
Going by simple words, "direct-to-garment" is the commonly used process in the textile industry for patterning and printing on clothing or other textiles. In this process, specialized liquified inkjet printers are used to spray the ink onto the portion of the fabric you select. The printers used for the DTG process could range from home-based desktop types to more advanced and sophisticated ones.
The printing process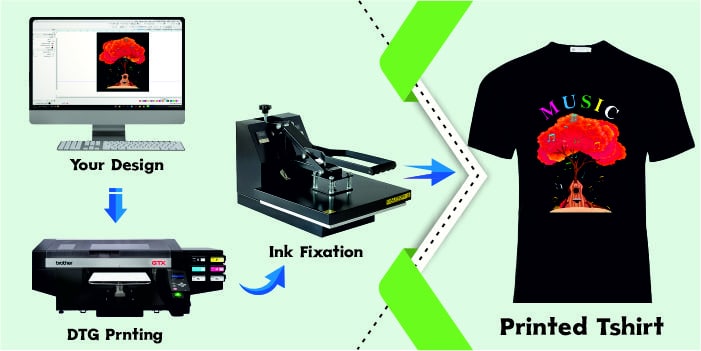 The working methodology of DTG printers is very similar to that of home-based printers and to start printing, you have to place the garment on the plate of the printer. The process requires that the fabric be pre-treated with a machine to create a stronger bond between the pigmented inks and the fibers of the fabrics. During printing on fabric, the ink gets precisely absorbed into the fiber. Once done with the printing part, the fabric has to be put in a heat press for almost 90 seconds to get the selected vector art design printed perfectly onto the fabric.
Advantages Of DTG (direct-to-garment) printing

Print-on-demand is gaining momentum in various applications and for different purposes. Whether you are a business person looking to promote your business by printing your company's logo on t-shirts or you just want a fancy print on your casual outfit that makes you look trendy in your Instagram posts, it's always good to print a relevant design on your piece of clothing. As a printing technology, DTG is ideal for accurately printing any vector graphic design or naturalistic image, no matter how complex it appears.
The method is engineered in such a way that it enables professionals to implement the most complicated color combinations across a wide range of products, such as t-shirts, sweatshirts, bags, towels, pet clothes, hoodies, etc. Printing a single piece of clothing is considerably less expensive with DTG compared to screen printing or reactive printing.
There are certain advantages that DTG printing brings to fabric printing. Here are the top five benefits of DTP printing technology.
1. Unmatched Quality
Several industries depend heavily on the quality of the print on a piece of cloth. When printing a any vector graphic design for commercial purposes, a professional has to make sure that every single detail has been added with precision.
The DTG process is best suited for printing relatively intricate vector graphic design with ease and within a minimum amount of time such as fancy typography for a professional work uniform or knotty logos for promotional purposes. As printers fire smaller droplets of liquid ink, the details of printing become much more precise. DTG printers can also print a wide range of colors in a single pass, ensuring consistently high-quality printing regardless of design complexity.
When it comes to fabric, the DTG method delivers the best printing output on some particular natural fabric types like cotton, linen, hemp, and bamboo. The process also works better on synthetic fabric types, especially polyester, nylon, nycra, etc.
2. Superb Adaptability
The DTG printing method is not just limited to t-shirt and sweatshirt printing and can be utilized for printing on various options. The process also works well for decorating household items such as curtains, blankets, pillowcases, caps, bags, and many others, depending on the type of printer as well as the tools and accessories utilized to execute the process.
To print on different products, the size of a palette matters a lot, and most printers come with varying sizes of pallets. By exchanging those pallets on printers with a few simple steps and settings, a professional can print on any item.
4. Your Choice Of Shading
In addition to an infinite number of color combinations, the DTG method allows a professional to add any shade to a design. Since liquified ink is utilized instead of a stencil, the method achieves high-quality details of the structures or images that you are looking for. The process with its potential to create breathtaking designs, helps you stand out from the rest.
5. Durable Print
Durability is another advantage of the DTG. Unlike other methods in which additional panels or layers are used, the liquified ink is directly printed onto the fabric, resulting in a perfect print that does not crack or degrade due to wearing or washing it multiple times. The pretreatment process improves color retention on fabric and creates a smooth print surface, ensuring that a print remains bright for as long as possible.
6 Comparatively Affordable
DTG printing is very economical. However, several factors determine the cost per print such as the DTG printing technology the company is using and the number of printing orders. For example, printing quality on printers like the Epson F2000 is considered the gold standard so the cost per print is often higher.
Similarly, the cost per print gets lower if you order bulk printing. Companies offer handsome discounts to their clients on their bulk print orders. Still, compared to other print-on-demand techniques, the price per print with DTG is considerably lower.
Conclusion
DTG printing has received a lot of attention from the print-on-demand industry over the last ten years because of its ease, short preparation time, cost-effectiveness, and most importantly, the quality of the final print.
There are other popular printing methods such as sublimation printing and screen printing, yet when it comes to dealing with color blending, shading, and the details of an intricate design, the DTG method is advantageous over those rival printing methods. Still, the process is in its infancy, and with
Advancements in liquified inks and printers, the DTG process is most likely to be the future of the print-on-demand industry.