---
WHAT DOES THANKSGIVING SIGNIFY?
Embroidery Digitizing
Ever thought why do we celebrate Thanksgiving and what significance it holds? Let's discuss it now and allow us to clarify some Thanksgiving Day in the United States and Canada's annual national holiday honoring last year's harvest and other blessings. Generally, Americans believe that their Thanksgiving is based on a 1621 harvest feast shared by Plymouth's English colonists (Pilgrims) and the people of Wampanoag. The American holiday is especially rich in mythology and significance, and the Thanksgiving meal's standard menu usually includes turkey, bread stuffing, potatoes, cranberries and pumpkin pie. The holiday is often the busiest time of the year with respect to vehicular traffic, as family members meet with each other.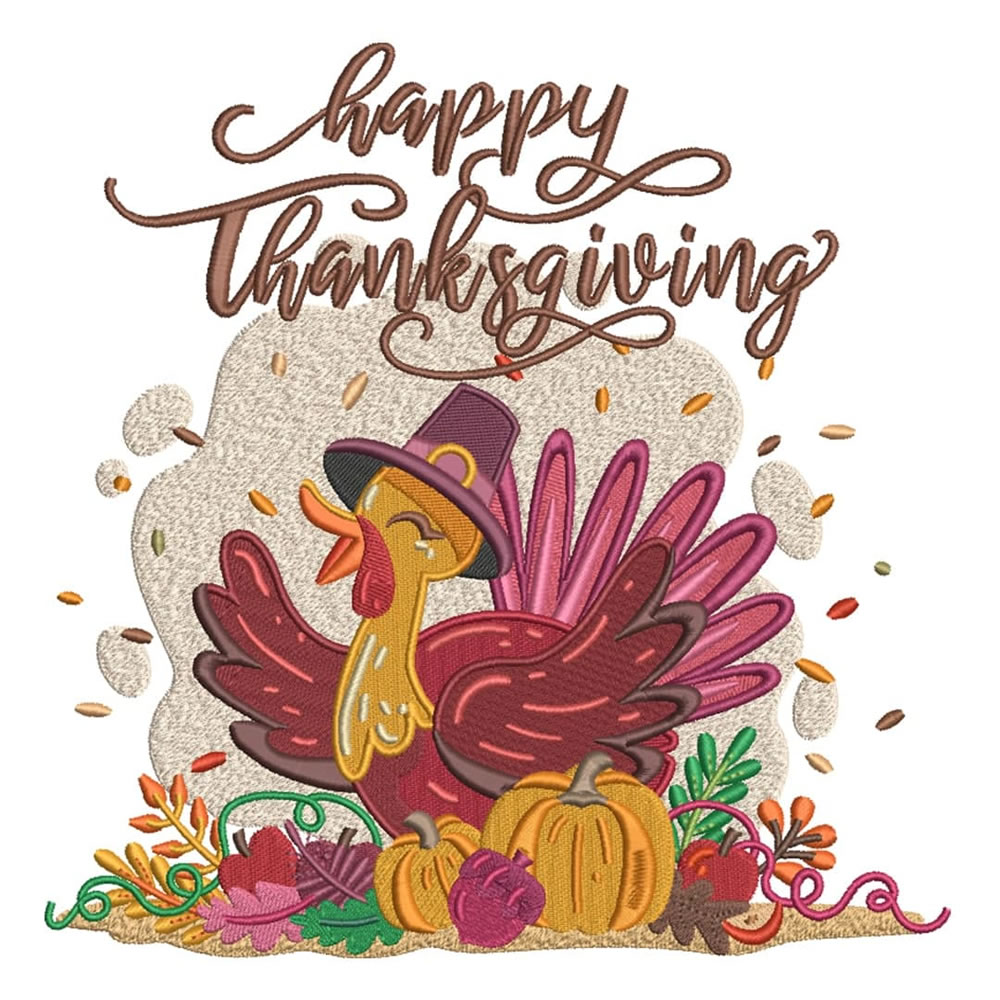 FAMILY CELEBRATIONS
Thanksgiving Day is a day in the U.S. to express gratitude for what they've received. For a meal that usually involves a roast turkey, stuffing, potatoes, onions, cranberry sauce, gravy. During the Thanksgiving weekend, there are parades in some cities and towns. This celebration also marks the Christmas shopping season starting in most regions.
LONG WEEKEND IN MORE THAN 20 STATES
The Day After Thanksgiving is a holiday in more than 20 states, also known as Black Friday. During the long weekend, it is common to take trips and visit family and friends.
SOME HAVE DAY OFFs TOO
On Thanksgiving Day, most government offices, corporations, schools, universities, colleges, and other organizations are shut. Most offices and businesses provide a long four-day Thanksgiving weekend for their staff, so these offices and businesses are also shut on the day after Thanksgiving Day. Public transit systems do not normally operate on their regular schedules. Thanksgiving Day is one of America's busiest commuting days. This can add to overcrowding and pollution. Seasonal parades and busy soccer games can also cause local traffic disruption.
HISTORY OF THANKSGIVING
Thanksgiving Day has been in the United States since 1863 as an annual holiday. Not everybody recognizes Thanksgiving Day as a cause for celebration, however. Beginning in 1970, an annual rally for a National Day of Mourning was organized by a band of Native Americans and their allies at Plymouth Rock in Plymouth, Massachusetts on Thanksgiving Day. At this time of year, American Indian Heritage Day is also being celebrated. There are rumors that in 1598, the first Thanksgiving Day took place in El Paso, Texas. Another early event took place in the Virginia Colony in 1619. Most historians trace the history of the current Thanksgiving Day to the 1621 pilgrims ' harvest festival in Plymouth, Massachusetts. Their first real Thanksgiving was in 1623, however, when they gave gratitude for the rain, that ended up in a drought. Such early thanksgivings, rather than a feast, took the form of a regular church service.
Thanksgivings became more popular after the harvest in the second half of the 1600s and continued to become annual events. These are held in different communities on different days, though, and there were more than one thanksgiving every year in some areas. George Washington, the United States ' first president, declared in 1789 the first nationwide day of Thanksgiving. Cre8iveSkill wishes you and your family a very happy and prosperous Thanksgiving.
Stay Happy, Stay Thankful. Today & Forever!