---
Raster to Vector art Conversion - Get tips by Cre8iveSkill
Vector Art
In the world of embroidery digitization that is prospering each day, raster to vector conversion plays an integral role in the growing need for personalized and customized embroidery designs. The conversion is known as vectorization that defines a process of converting a raster image, photograph, or a piece of drawing to vector images in various formats like DXF, EPS, SVG, EMF, and AI. These formats then become computer-ready images with a perfect structure and form with mathematical curves and gradients representing the edges and filled areas of the original image. The final converted image can then be put to use to any designing software without the loss of quality while enhancing the artistic value of the original image on the output source.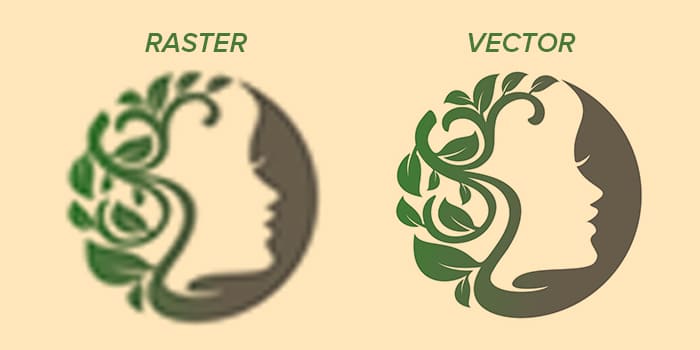 When the same technique is brought for embroidery digitization, there come endless possibilities to create customized embroidery designs and inspiring pieces of silhouette and accessories through screen printing, engraving, and laser etching. When you have a vector image with you, it becomes easy and efficient to create any design with added elements of embellishments and appeal before actually placing the same original design to a piece of fabric. You can even give a 3-d effect to a mere two-dimensional drawing on a paper. Also to mention that when working to get the most inspiring piece of logo design and monogram embroidery, vector images are easier to edit and can be used in various texts and sizes. "Wild Imagination, Thoughtful Innovation, and Passionate Creation" here becomes a trademark.
Let us now understand the raster and vector image, before actually switching over to the actual process of conversion.
Raster Images: These are resolution-dependent images made of pixels or tiny squares of colors. These are supported by almost all web browsers and image editors. Raster images on a zoom mode display are broken pixels giving a blurred look to the image.
Vector Images: These are resolution-independent images of high quality used by various industry verticals like embroidery, graphic design, and engineering. These images when on a zoom mode multiply the size of their design paths. This, in turn, gives the perfect image appeal in changeable sizes.
Now, let us learn some important tips to keep in mind for image vectorization while undergoing any embroidery artwork: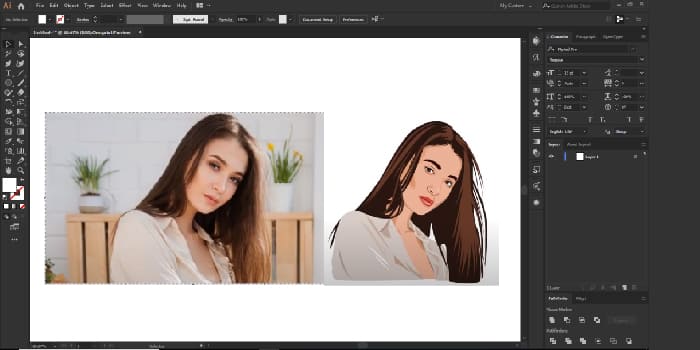 The source of the raster file format plays an integral role. There are a bunch of raster images but only a few are easier to convert like the TIFF format. When it comes to converting the popular JPEG format, there is always a quality issue.
You can undergo the conversion process easily by manual tracing or using automatic mode through various image editing software like Illustrator, Scan2CAD, and Photoshop while Scan2CAD being the top choice for industry professionals.
You should also be considerate about the vector file format you looking for. Not every vector format is beneficial for all purposes. For embroidery digitization, the most common vector file formats include
In the process of conversion, some sort of rasterization at a certain level of embroidery digitizing also makes a difference. This is because it works to make the image suitable to have some artistic effects.
You can easily eliminate unwanted areas, reduce or increase curvature, and preserve sharpness while playing hit and trial with vectorization parameters like sharpness, area, and accuracy.
Remember, when you talk about image vectorization, it includes many components of vector artwork like vector tracing, image masking, background editing, image enhancements, logo redraw, adding watermarks, color corrections, and color separation in accordance to custom embroidery orders also comes into consideration.
Here are some important tools for raster to vector conversion used in the field of embroidery digitization: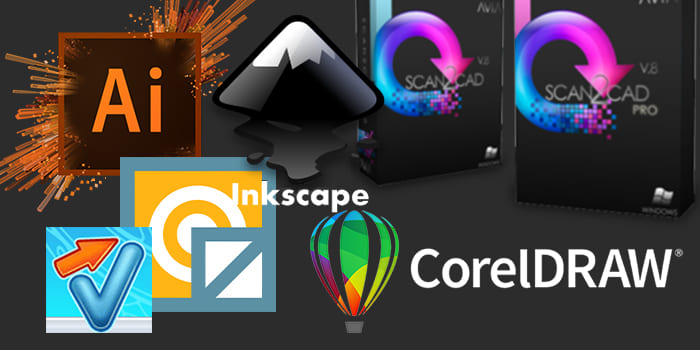 Vextractor
Vector Magic
Scan2CAD
Illustrator
Inkscape
CorelDraw
To conclude, there are many other tools that work miracles for the vectorization process. Still, many more are on their way to make up to the top list of computer-aided software for embroidery digitization with the ever-expanding and constantly evolving industry.