---
Popular Embroidery Machine Fonts Embroidery Digitizers Must Know
Embroidery Digitizing
Being an embroidery digitizer, you have to deal with different types of embroidery projects regularly. When it comes to digitizing, choosing the right font combination is crucial to add distinctiveness to an embroidery design. There is a plethora of font sets, and you might be one of those who uses different combinations of fonts to achieve the desired visual appeal. However, irrelevant combinations of fonts do not add constructive value to the digitization process, and a slight mistake in the application of fonts could have a negative impact on the overall visible or hidden sense of a design.
From a digitization point of view, it is important to acknowledge the significance of choosing appropriate embroidery font types, which is interestingly more critical than understanding the actual structure of a design itself. The application of two or more pertinent fonts with distinct characteristics helps produce the desired output in an embroidery design.
Some Well-Known Machine Embroidery Fonts
It is always a good idea to have as many font options as possible so that you can create appropriate styles for various types of embroidery projects. In our endeavor to help you add more excellence to your embroidery designs, we have found some of the finest machine embroidery font types that aid in the creation of eye-catching embroidery designs on various types of custom products that are sure to catch the attention of aesthetes.
1. Helvetica Embroidery Font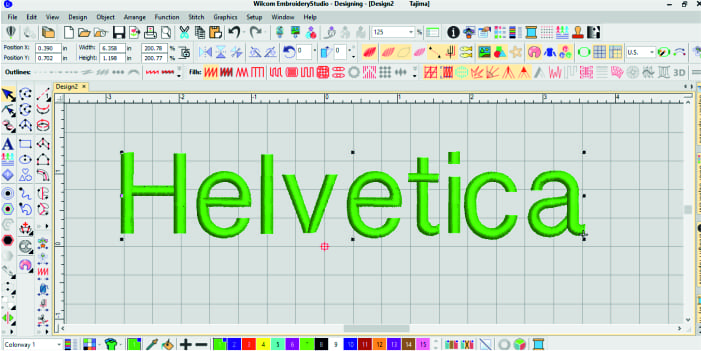 Helvetica is one of the most popular machine embroidery fonts, and if you're looking for a graceful, edgy, and classic font, Helvetica is a great choice for you. Due to its efficiency and attractiveness, Helvetica is widely used by embroidery digitizers. One of the best things about Helvetica is its adaptability, which makes it useful for different types of design projects. The fonts are extremely neutral and, depending on the elements on them, can be used in a variety of embroidery designs. These fonts are so easy to create that even an inexperienced digitizer can use them effectively.
2. Arial Black Embroidery Font
Arial Black is another extremely versatile font. The font type, with its classic and black texture, is part of the Arial font family and gives a darker look and a standard touch to designs. Arial black is considered ideal for embroidery digitizing projects such as t-shirts, jackets, sweatshirts, backpacks, etc. Some of the most widely used bundled Ariel fonts, including Bold Italic, Ariel Regular, Italic, and Bold, are easy to work with.
3. Futura Embroidery Font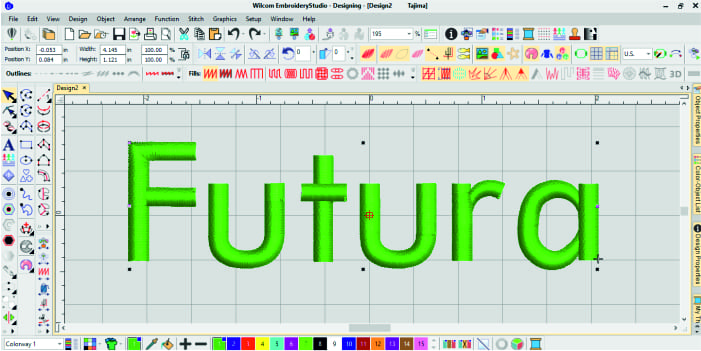 Futura is a stunning retro-futuristic font that is compatible with all kinds of embroidery designs in machine embroidery digitizing. Futura looks neat, simplified, comprehensible, and elegant without being blatantly "styled." Futura is entirely derived from geometric forms and has strokes of nearly even weight and contrast, as well as distinctively tall lowercase letters that rise even above its capitals. In simple words, the Futura font set is a great choice to give an attractive appearance to designs.
4. Garamond Embroidery Font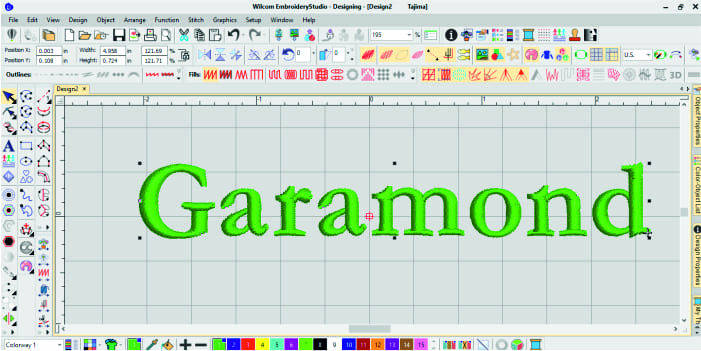 Garamond font is a widely used embroidery font type throughout the world when it comes to printing embroidery designs. The font set is highly elegant and legible and is considered one of the most production-friendly fonts. This is a well-designed font that is typically smaller and leaner than other old-style serifs, which makes it pop up on all types of designs.
5. Comic Sans Embroidery Font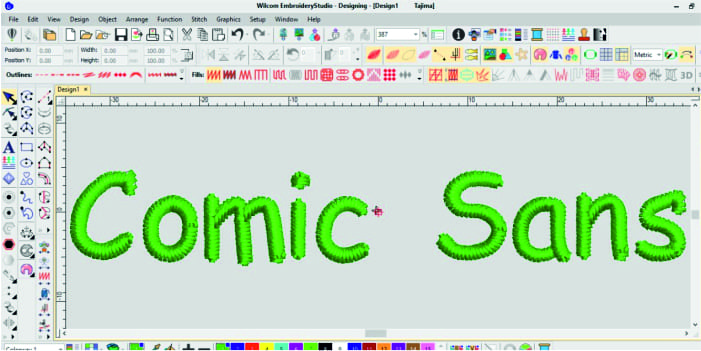 Despite its notorious background, the Comic Sans font set has become one of the most widely used fonts in recent years. The typeface is popular among digitizers due to its efficacy and attractiveness. The font is one of the simpler and more pleasant typefaces and is frequently used for non-formal, joyful, fun, and casual patterns for embroidered artwork.
6. Century Gothic Embroidery Font
The Century Gothic font set overall has a greater x-height without serifs, and the lowercase "u" looks like a miniature form of the capital "U." With its distinct characteristics and geometric design, this is a simple yet widely accepted typeface for embroidery digitizing. This is an ideal font to give a bold and clear appearance to embroidery artwork.
7. Baskerville Embroidery Font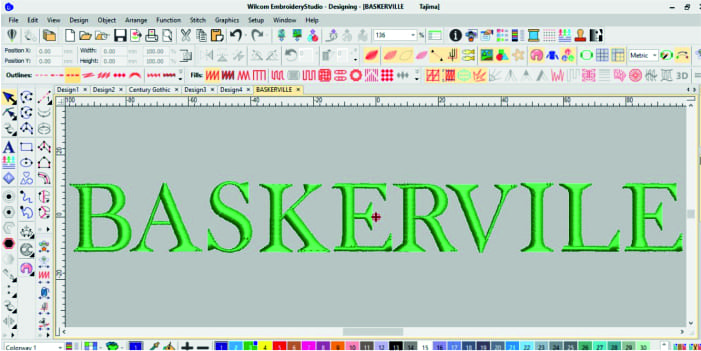 With its distinctive flints, Baskerville is one of the most popular font sets among embroidery digitizers. Digitizers often use this font type to get the desired results in embroidery projects with relatively large text-based designs. The type of font, with its own style, weight, and other features, is ideal for enhancing the visual appeal of designs.
8. Copperplat Gothic Bold Embroidery Font

Cooperplate Gothic Bold is another widely recognized font for digitizing embroidery. This is a sans-serif typeface and uses small letters rather than lowercase digitizing. This is a sans-serif typeface and uses small letters rather than lowercase. Most digitizers like its bold appearance and the touch of vintage it conveys. When used for embroidery artwork, it gives a delightfully crisp effect on designs that appear magnificent.
9. Rockwell Embroidery Font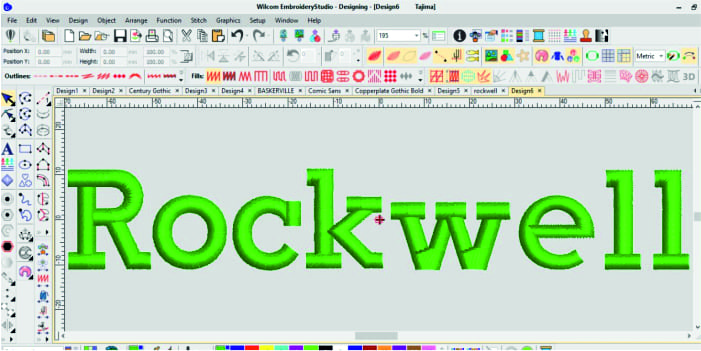 With its unique characteristics, the Rockwell font is one of the most widely used fonts in recent times. The font set comes with all-case letters A–Z and a–z in each of four sizes. Rockwell is a basic yet highly versatile font that can be utilized in various embroidery projects.
Conclusion:
The embroidery digitizing industry has advanced significantly over the past ten years in several aspects, including access and availability of embroidery font types. However, there is a downside: excessive use of embroidery font types without proper digitizing sense, particularly by novice digitizers, is resulting in a market that is full of poorly designed embroidery.
We at Cre8iveSkill firmly believe that this is the revolution that has brought a plethora of opportunities for professional embroidery digitizers to learn and evaluate their skills more effectively by experimenting with a variety of embroidery fonts.
We began our journey more than two decades ago, with our primary objective being to achieve the best visual appeal in embroidery designs. Today, we have perfected our capabilities to demonstrate creativity in embroidery designs on levels you've probably never experienced before, assisting clients from various domains in achieving perfection by analyzing every detail in their designs.
We genuinely are so good, and we know it's hard to believe. Well, you can check out our website to learn more about the procedures and the precision we follow in our embroidery digitizing and draw your conclusions.