---
Enhance Your Restaurant Brand with Embroidered Chef Coat and Apron
Embroidery Digitizing
Your restaurant is not just remembered for the variety and quality of its cuisine. It is also about the experience your customers receive whenever they pass through your doors. After all, your restaurant's brand image is everything. That's what sets you apart from the competition and keeps customers coming back again and again. The way your staff looks and behaves is important. When your chefs and waiters wear professional and one-of-a-kind chef coats and aprons, they make a positive impression.
This is where embroidered chef coats and aprons come in. They're one of the easiest and most cost-effective ways to promote your brand, ignite motivation among staff members, create a more professional and polished atmosphere, and build customer loyalty by giving your guests a sense of consistency and familiarity.
In this blog, we are going to explore some of the other most significant advantages of embroidered chef coats and aprons and how to choose them for your restaurant. We'll also discuss the crucial role played by a reputable custom embroidery digitizing vendors and their chef uniform embroidery digitizing service in achieving customized chef wear that is beautiful, durable, functional, and perfectly aligned with your goals.
The Advantages of Embroidered Chef Coats and Aprons
Create A Professional Atmosphere Within Your Restaurant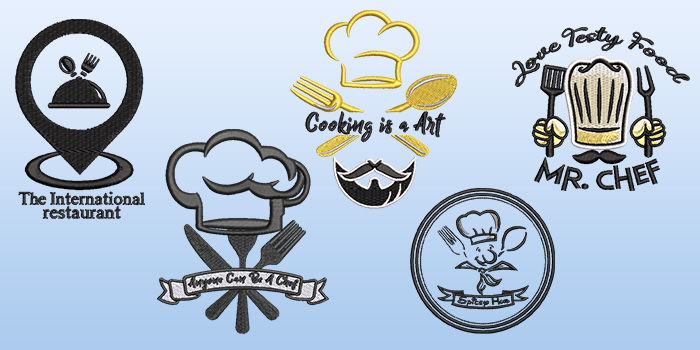 Custom chef coat embroidery hold multiple essential features such as the employee's name embroidery, restaurant logo embroidery design, or other personalized designs .When everyone at work wears embroidered chef coats and aprons, they help establish a sense of teamwork and unity. If these dresses are designed effectively, they assist in creating a coherent and cohesive atmosphere within your restaurant.
Boost Brand Awareness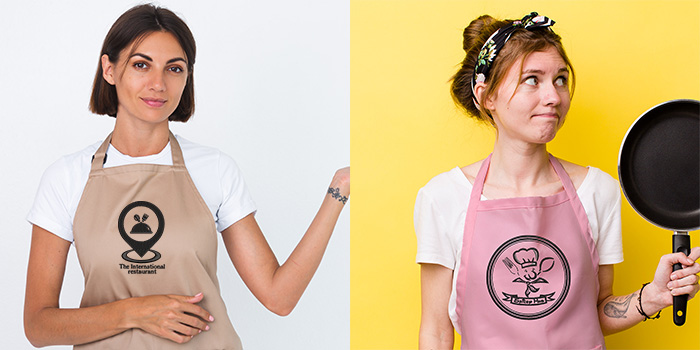 When customers see your staff wearing your logo, chef coat designs, or other branding elements, there is a high probability of creating a visual association between your brand and the food they enjoyed. Such exposure can lead to increased recognition of the brand and familiarity among customers, thereby promoting customer loyalty and referrals.
Your Staff Becomes Mobile Brand Ambassadors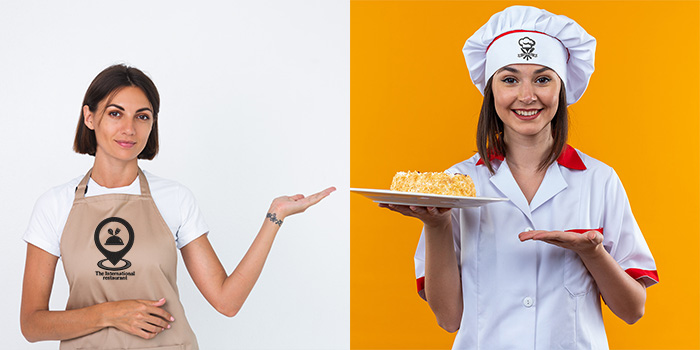 Chef coats and aprons with embroidered elements serve as walking billboards for your restaurant. When employees wear these uniforms with the restaurant's name and emblem, they become mobile ambassadors of the brand. They showcase the brand to visiting customers as well as those outside the restaurant. This can result in greater awareness and possibly attract new customers.
Increased Brand Exposure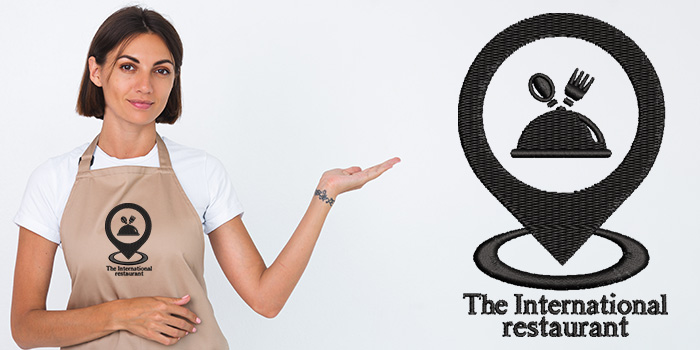 In addition to the work environment, embroidered aprons and jackets can be used during off-site activities such as food festivals or catering services. This broadens your restaurant's visibility to a broader population, potentially attracting new customers and strengthening the brand's reputation.
Set You Apart From The Competition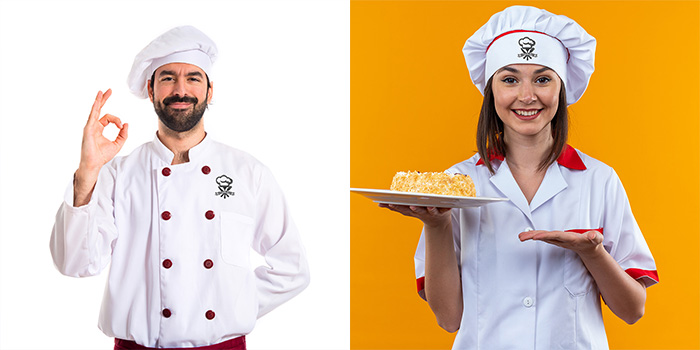 Embroidered chef uniforms can be one of the strongest aspects of a comprehensive branding strategy. A distinctive embroidered logo and unique embroidery patterns or colors help to create a memorable visual impact. This is especially useful if you're seeking to attract new clients in a highly competitive market.
Key Considerations While Designing The Perfect Chef Coats And Aprons
Elements That Represent Your Brand Identity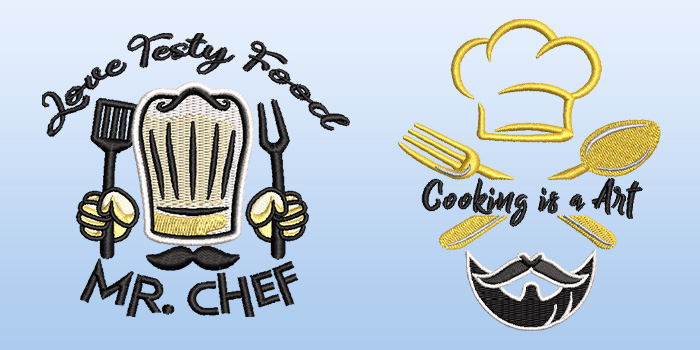 When it comes to creating the perfect embroidered apron and jacket, you must consider your restaurant's brand identity and values. Carefully examine the tone, style, and message that the restaurant wants to deliver to its customers. For example, if you want to represent your restaurant as innovative and creative, then choose a more modern design. On the other hand, if you want to be perceived as conventional and classic, you should go with a more traditional design.
You must ensure that the design of chef's coats and aprons is consistent with all of these features in order to establish a cohesive company image.
Aligning Embroidered Chef Uniforms With The Restaurant's Ambience And Theme
Whether you own a formal fine-dining establishment or a casual eatery, customizing chef uniforms to complement the overall theme of your establishment can help immerse diners in an appropriate atmosphere. Thus, By aligning embroidered aprons and coats to the restaurant's ambiance and concept, you may create a distinct and memorable visual identity that consumers can connect with your brand.
Color Psychology Should Be Considered To Maximize The Benefits
Colors have the ability to elicit specific feelings and connections, which is especially true in the food and beverage business. That's why color psychology is one of the crucial factors you have to consider when designing embroidered chef coats and jackets. Practically, it depends on your primary goals and the mood you want to create in your restaurant. For example, colors such as red, orange, and yellow are often associated with enthusiasm and vitality and make visitors feel excited and hungry.
On the other hand, colors like blue, green, and lavender are generally associated with calmness and relaxation and may make clients feel relaxed and safe. Also, you have to choose colors for chef dresses that match the overall look and atmosphere of your restaurant and are relevant to conveying your specific brand messages.
Placement Of The Brand Logo And Other Embroidered Elements
The simple rule is that embroidered items on your chef jackets, whether they are a brand logo or additional crucial visual elements like designs, words, and taglines, must be easily noticeable and legible. Embroidering all of these elements in prominent areas, such as the chest or upper front area, the back side of aprons, pockets, and shoulder straps, are some of the most conventional and simple ways to ensure that they are readily noticeable to everyone who interacts with your staff members.
The style of aprons is another major factor in determining the placement of branding elements. For example, bib aprons with their central panels allow for more creative placement options than standard aprons. Also, you can try out different placements on mock-up aprons if you have a few ideas.
Quality Materials And High-Quality Embroidery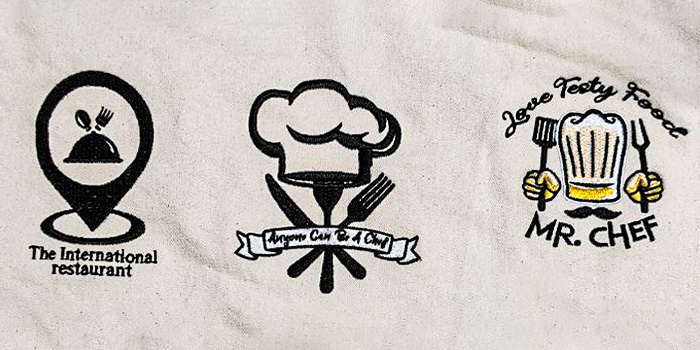 What could be more effective than well-executed embroidered elements to enhance the overall appearance of chef aprons made of premium quality materials?
The embroidered chef uniforms you are thinking about are sure to be worn by your staff for longer periods each day. If these garments are made of fabrics of excellent quality, these uniforms going to provide breathability, flexibility, and comfort, allowing them to move freely and efficiently.
Fine embroidery work demonstrates an emphasis on precision and expertise. Intricate designs, precise stitching, and crisp lines reflect a commitment to excellence.
How Embroidery Digitizing Company Helps In Customizing Quality Chef Coats & Aprons
As a restaurant owner, you're always seeking the most eye-catching ways to make the place look professional and modern and custom embroidery chef coat is the certainly one of those effective instruments. Still, the quality and overall precision of embroidered elements matter a lot. Working with a professional custom embroidery digitizing vendor helps you achieve flawless and aesthetically beautiful embroidered chef coats for a number of reasons.
These companies, along with their expertise, experience, and technological prowess, can help you customize chef uniforms to your specifications. They assist you in enhancing and refining existing designs as well as designing entirely new designs that match the style of your restaurant. Renowned custom embroidery digitizing vendor leverage the power of innovative and advanced digitizing technologies like Coloreel embroidery digitizing, which is highly valuable for producing high-quality embroidered elements.
With their access to a wide range of thread colors and types, they can precisely convert your brand logo, restaurant name, intricate chef coat designs, employee names, taglines, and other texts into digitized files. Furthermore, in order to ensure flawlessness and the best quality, these vendors usually conduct sample tests before they start working on your project. This helps in ensuring consistency across all embroidered chef coats and avoiding errors or discrepancies.
Final Thoughts
Embroidered chef jackets and aprons serve as more than just formal attire in the culinary world. They hold significant meaning and benefits that extend beyond their aesthetic appeal. These sorts of coats symbolize the professionalism and expertise of your brand, turn staff into mobile brand ambassadors, and help to enhance the overall awareness of your restaurant.

With profound experience and expertise, we at Cre8iveSkill believe in offering precise, detail-oriented, and promotion-centric chef uniform embroidery digitizing services to meet the requirements of our clients. Our collaborative approach ensures that we work closely with them, seek feedback, and make necessary adjustments to achieve their desired look and feel. With design modifications tailored to each client, we create unique embroidered chef coats and aprons that truly represent your brand.