---
Cre8iveskill Launches Online eCommerce Embroidery Design Shop
Embroidery Digitizing
In an increasingly interconnected world, the shopping experience is undergoing a profound transformation, fueled by the boundless possibilities of technology and the evolving needs of shoppers. Today, online fashion e-commerce platforms have become the enchanted gardens of style, where every shopper's apparel decoration desires can be brought to life with a mere click. With a symphony of choices at their fingertips, fashion enthusiasts are no longer confined to the limited aisles of brick-and-mortar stores. Instead, they are whisked away on a magical journey, exploring a vast tapestry of designs, patterns, and embellishments that tantalize their senses.
These platforms understand that fashion is not just about following trends but about celebrating individuality. They embrace the power of choice, granting you the ability to curate a wardrobe that is a true reflection of your unique essence. And it doesn't stop there; customization becomes the magician's wand, allowing you to weave your personal stories into each garment. Monograms, embroidered motifs, or even the freedom to design from scratch—this virtual realm unlocks a realm of endless possibilities.
Amidst this renaissance of fashion, Cre8iveskill emerges as a trailblazer, unleashing a wave of creativity with the launch of their online eCommerce embroidery design shop.
But what exactly are the trends in machine embroidery that have been captivating the hearts of millions around the world? Let's take a look at them first
Popular Digitized Embroidery Trends That Have Been Winning Hearts!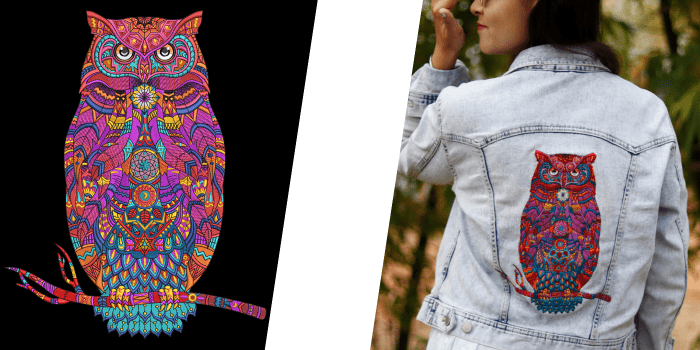 The growing popularity of machine embroidery can be attributed to the convergence of several factors, but one thing is clear: the enchantment of meticulously stitched custom embroidery designs has captured the hearts of fashion-forward individuals everywhere.
A remarkable trend sweeping through the realm of machine embroidery in 2023 is the growing preference for bold colors, intricate patterns, and classic style. The versatility of machine embroidery is one of its most impressive characteristics, and when it comes to people's taste for machine embroidery designs nowadays, vibrant colors, intricate patterns, fun, quirky designs, and traditional and classic styles are getting more popular.
The allure of floral designs on fabrics has bloomed beyond imagination in recent years, captivating the hearts of fashion-conscious individuals. Whether it's delicate blossoms or bold, oversized petals, floral machine embroidery designs are evoking a sense of femininity, elegance, and a connection to nature.
Alongside floral motifs, animal-inspired machine embroidery designs have become immensely popular. Whether it's a whimsical fox, a majestic eagle, or a playful panda, these designs add a touch of charm and personality to garments, accessories, and even home decor. Also, vintage charm is making a comeback, as bold colors in custom embroidery designs are being used to add a touch of nostalgia to modern embroidery projects.
As embroidery continues to invade retail stores, it's clear that all these trends are here to stay for years to come.
Cre8iveSkill's Online Design Shop: Incorporates Trending Embroidery With Ease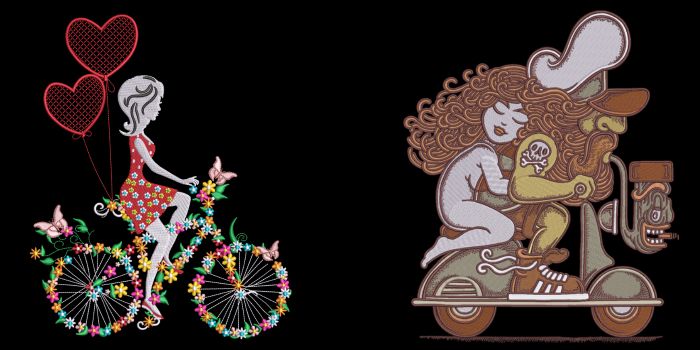 Cre8iveskill's commitment to innovation and creativity knows no bounds. By embracing the transformative power of e-commerce platforms, it provides a gateway to a world where fashion knows no limits and embroidery becomes a language of self-expression. With a keen eye for trends and a machine embroidery designs passion for pushing the boundaries of fashion, the company has become a catalyst for individuals seeking unique and captivating embroidery designs that breathe life into their personal style.
Embroidery designs for sale in its online design shop cater to the discerning tastes of fashion aficionados, offering a vast array of special embroidery designs that cater to every style and preference. From trendy apparel like t-shirts, jeans, jackets, and hoodies to stylish accessories like hats, bags, and socks, no aspect of fashion is left untouched by the allure of embroidery.
The collection of embroidery designs on the online store is a kaleidoscope of colors and creativity. With a vast range of collections that include trendy fashion designs, traditional cultural motifs, delicate floral patterns, festive designs that capture the spirit of the season, intricate designs inspired by nature, charming pet designs, and bold wild animal designs, you're sure to find the perfect embroidery to bring your creative vision to life.
The platform also provides a seamless embroidery experience, with design categories that meet the highest industry standards. All of our embroidery designs are digitized using top-of-the-line software and are compatible with popular machine embroidery files formats like EMB, DST, EXP, JEF, PES, VP3, XXX, and even PDF. Thus, the online store offers a seamless bridge between technology and artistry, empowering you to bring your visions to life with unrivaled precision.
Through its online eCommerce platform, Cre8iveskill has opened up a realm of possibilities for fashion enthusiasts worldwide. Gone are the days when finding unique embroidery designs required hours of searching through exclusive boutiques or relying on limited local options. Now, with just a few clicks, individuals can explore a vast array of fashion-forward designs, allowing them to embrace their creativity and elevate their personal style effortlessly.
And let's not forget the convenience and ease that our online design shop brings. With just a few clicks, you can explore an extensive range of designs, compare styles, and find the one that resonates with your individual aesthetic. Whether you're seeking a timeless embroidery piece to elevate your wardrobe or a unique gift that will leave a lasting impression, the embroidery designs for sale in the shop are going to allow you to embrace your creativity and elevate your personal style effortlessly.
The Unique Features Cre8iveSkill's Embroidery Design Shop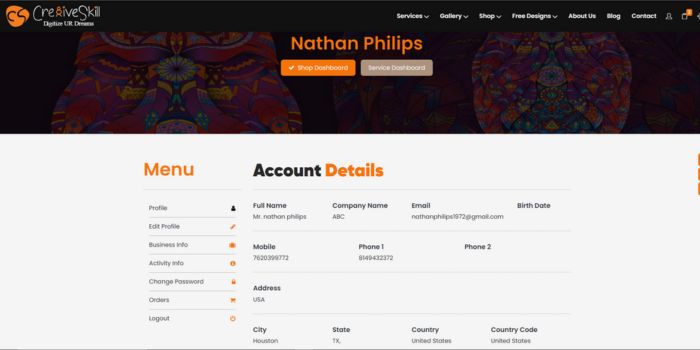 Embarking on a seamless and delightful embroidery shopping journey has never been easier with Cre8iveSkill's exceptional online portal. Let's dive into each of these remarkable features and discover how they enhance your journey:
Product Catalog:
Explore a vast collection of digitized embroidery designs, machine embroidery designs, and custom embroidery designs. Unleash your creativity with a wide variety of options, ranging from intricate patterns to contemporary designs.
User-Friendly Interface:
Navigating our portal is a breeze ,thanks to our intuitive and user-friendly interface. Say goodbye to endless scrolling and hello to effortless exploration. Finding the perfect embroidery design is now a joyful and seamless experience.
Secure Payment Gateway:
Shop with confidence as we prioritize the security of your financial information. Our secure payment gateway ensures that your transactions are protected, allowing you to focus on selecting the embroidery designs that capture your imagination.
Solid, Secure Platform:
Trust and security are at the core of our online portal. We provide a robust and secure platform that safeguards your data and transactions. Feel at ease knowing that your privacy is protected while you explore the realm of embroidery designs for sale.
Simple, Clean Navigation:
We understand the importance of an intuitive and clutter-free browsing experience. Our simple and clean navigation ensures that you can easily find and explore the embroidery designs that resonate with your unique style. No more getting lost in a labyrinth of confusing menus and categories.
24*7 Customer Support:
We value your satisfaction above all else. Our dedicated customer support team is available around the clock to address any queries or concerns you may have. Enjoy a seamless and hassle-free shopping experience with our reliable support system.

H2>How Can Individuals And Different Organizations Benefit From The Portal?

The portal offers a vast collection of high-quality embroidery patterns that cater to different organizations' needs. Whether you're a small business, a fashion designer, or a promotional products company, you'll find the perfect embroidery designs for sale on this platform.
With Embroidery Designs Online, you can easily access a wide variety of digitized embroidery designs, browse through machine embroidery designs that suit your requirements, and even request custom embroidery designs for a unique touch. The convenience of this platform allows organizations to enhance their products and services with beautiful and intricate embroidery work.
Conclusion
The trends in machine embroidery are captivating hearts worldwide, with bold colors, intricate patterns, floral and animal motifs, and a resurgence of vintage charm taking center stage. With a symphony of vibrant colors, intricate patterns, and classic styles, machine embroidery has become the language of self-expression. From delicate floral motifs to whimsical animal-inspired designs, the allure of embroidery knows no bounds.
Cre8iveskill's online store is a kaleidoscope of creativity, housing a vast collection of embroidery designs that cater to every taste and preference. Whether you seek to elevate your personal style or enhance your organization's offerings, Cre8iveskill empowers you to unleash your creativity and embrace the magic of embroidery.