---
Computer Embroidery for Digitization by Cre8iveskill
Embroidery Digitizing
Embroidery is an ever-loved fashion trend and with the intervention of computers, it has become even more beautiful. Have you ever been curious to know how a machine carries out intricate designs with those delicate threads and complex stitches? Although widely used across the world, computer embroidery still remains unexplored and unlearned. Embroidery, which was earlier restricted to the hands of homemakers and grandmothers, has made its way to the digitized world of machines undergoing a drastic makeover that can be seen as modern sewing in today's era.
What Is Computerized Embroidery?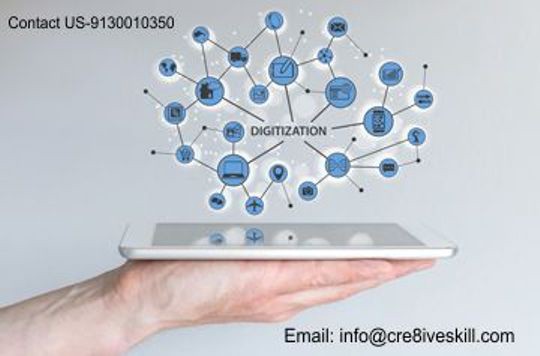 When embroidering is done by using computerized designs, it is called Computerized Embroidery or Machine Embroidery. These embroidery designs are then stitched on desired fabric or material with utmost precision as machines are fed with specific instructions and codes that help them create uniform designs with pre-defined measures and color-coding. Such computer-controlled embroidery was initially used only by small-scale sewing enthusiasts and has recently been popular among large businesses too for their promotional products. Modern embroidery has evolved over the past few years and is gaining momentum recently.
Why Is The Digitization Of Computerized Embroidery Important?
Why is the digitization of computerized embroidery important?[/caption] Digitization is a process that creates an embroidery design in a machine-readable format. For machines to embroider, the image format should be in a machine-readable format which was earlier a laborious process. Embroidery digitization creates a digital file in specific formats from any hand-drawn or vector image. To help machines do their job, digitizers need to possess a thorough understanding of embroidery digitizing software and the basics of embroidery designing such as the use of threads, fabric choices, and sample-proofing. Benefits of computerized embroidery Computer embroidery for digitization is an advancement in embroidering techniques that has added to its beauty and elegance. It has become easier to fulfill large-scale embroidering projects with technological advancements.
Easy to understand and operate – Computerized embroidery allows you embroider designs of your choice easily and beautifully. Using computerized embroidery machines is quite easy if you are good at sewing machines. However, it is always good to outsource embroidering projects to professional embroidery digitizing companies who have the necessary production set-up and experienced professionals.
Uniformity and accuracy – Machine made embroidery designs produce uniformly stitched patterns as they work on pre-defined inputs. It is important to supervise the task to ensure the design is getting stitched according to the design file.
Speed – Embroidery designs produced by machines is far more efficient than hand-made embroidery as it saves both time and effort while also minimizing errors. This allows for faster delivery of large-scale production requirements.
Flexibility – You can edit the computerized designs any time to make certain adjustments if the sample design does not suffice your expected levels.
Steps For Custom Computer Embroidery
SELECT Or CREATE A DESIGN: Digitizing requires having an image. You can browse the internet or hire a designer to create an image. It would be great if you could design something unique on your own as it would be closer to your heart.
SAVE THE FILE IN the DESIRED FORMAT: Embroidery machines understand specific file formats. It is important to know your machine's configuration to save the image file in a compatible format.
INITIATE THE STITCHING PROCESS: Before the machine begins to work, many inputs have to be fed manually such as the thread type, the type and count of stitches, the needle type, color scheme, and the stitching order as well.
FRAME THE FABRIC IN PLACE: Using the hoop in the machine, frame your fabric so that it stays in place and allows the needles to move around with ease.
START THE SEWING PROCESS: Once you are done with all the required manual inputs stated above, the machine is set to start the process and continues until it completes the specified field.
MONITOR THE PROGRESS: Embroidery machines require continual monitoring of their functions. Operators may have to change the stitch colors or stitch type as required.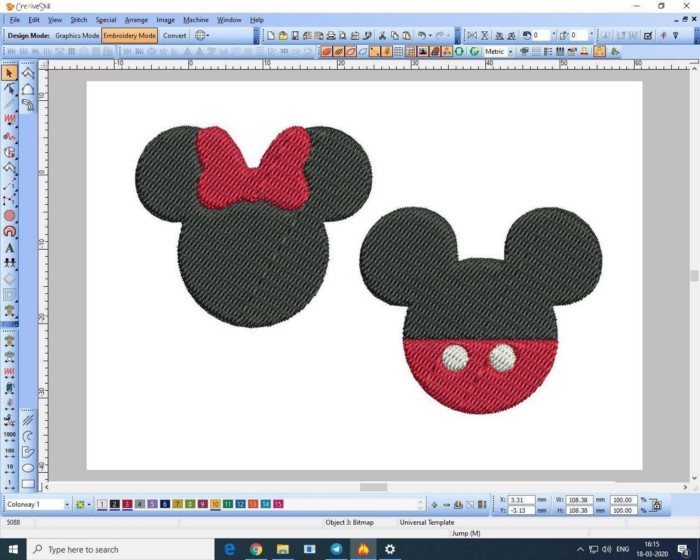 The needle and thread artwork has been fascinating people for ages and has evolved into beautiful embroidery pieces with the modern digitizing process. Computer embroidery has immense scope for creativity and is largely used by businesses for promotional activities.
Where To Get Computer Embroidery Designs?
Although it could be lucrative from the internet or access websites that permit converting vector images into embroidery files, it is better to outsource your work to a digital embroidery company that has the latest machinery and people with the necessary skill set as well as technical expertise.
Cre8iveSkill is a company that has been sewing threads since 1998 and has invested 20+ long years, we have upskilled ourselves with the latest innovations in the embroidering industry. We learned, experimented, and delivered embroidery projects with precision and satisfaction. Computer embroidery by Cre8iveSkill is teamwork of experienced embroiders, graphic designers, and hi-tech machines.